Restrictions and Parking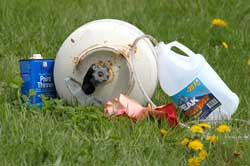 Restrictions
Do not pick in medians, construction areas, work zones or recently seeded areas.
Do not wear headsets that could prevent you from hearing traffic or other hazards.
Do not horse around or do anything to purposely distract drivers.
Avoid open water, ravines, bridges, overpasses, retaining walls and mowing activities
Avoid poison ivy, wild parsnips (PDF, 1.5 MB), or other noxious weeds. Stay away from recently applied herbicides.
Watch for broken glass, sharp metal objects and boards with exposed nails.
Do not move, touch or pick up the following:

Heavy or large items
Needles, weapons, hazardous materials or water bottles of urine. Do not put syringes or needles in the trash bag. They can easily puncture the bag and cause serious injury.
Explosives, abandoned barrels or other containers with unknown contents.
Dead animals. If the animal is small, leave it for scavengers. If it is large, note the location and report it to MnDOT. If you see a pile of woodchips or compost, you can assume it's covering a dead deer. Leave it alone and nature will take care of it.
Meth lab wastes such as propane cylinders with brass fittings that are blue/green or modified, medicine boxes, pill residue (pinkish putty-like substance), respirator masks, rubber gloves, hoses and clamps, sheets and pillowcases stained pink or red, Corning or Pyrex containers with rubber hoses attached. Propane cylinders from gas grills are especially dangerous. They are used to transport anhydrous ammonia and can explode causing burns and severe respiratory damage.
If you find any of these, mark the location with a trash bag and report it to MnDOT.
Parking
Carpool to the site. Whenever possible, park in a nearby parking lot or seldom used approach to a farmer's field.
If you must park on the shoulder, park as far as possible to the right of the white line. Park on the same side of highway that you will be picking so motorists see your vehicle before they see you.
Never park along an interstate highway. If you've adopted an interstate, contact MnDOT for specific parking instructions.