Aeronautical Chart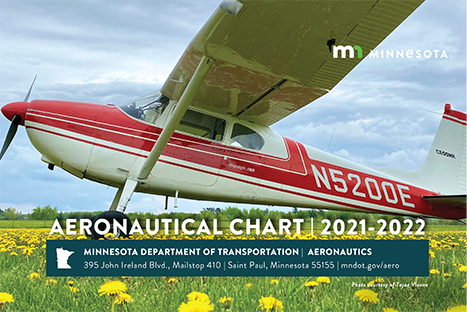 The Minnesota Office of Aeronautics publishes an aeronautical chart every two years. The chart is mailed to Minnesota pilots listed in the Federal registry. The chart is a WAC scale chart with some additional information normally found on sectional charts. Also included is a Minneapolis-St. Paul area chart.
Approach plates and airport diagrams
Download FAA charts and publications, such as current Instrument Approach Procedure charts (IAP), Departure Procedure charts (DP), Standard Terminal Arrival charts (STAR), and Airport Diagrams. Also included are Take-Off, Radar, and Alternate Minima textual procedures. Only airports with instrument approaches are listed here. The most complete source for airport diagrams for Minnesota airports is still the Minnesota Airport Directory.
Voyageurs National Park seaplane operations emergency closure
Due to the presence of the spiney water flea, an emergency closure was implemented at Voyageurs National Park effective May 10, 2007. Seaplane operations are prohibited on all lakes within Voyageurs National Park until further notice except: Kabetogama Lake, Namakan Lake, Rainy Lake, Sand Point Lake. For more information contact Voyageurs National Park at 218-283-6600.