CAV Advisory Council
In April 2019 Governor Walz issued an executive order (PDF), appointing a Connected and Automated Vehicles Advisory Council to study, assess, and prepare for the opportunities and challenges associated with the widespread adoption of connected and automated vehicles (CAV) and other transportation technologies. The members serve from October 2019 to April 2023.
Meet the Advisory Council
Co-chairs
Chair, Margaret Anderson Kelliher – Commissioner, Department of Transportation
Co-Chair, Phil Magney – Founder and Principal, VSI Labs
Members
Charles Zelle – Chair, Metropolitan Council
Amber Backhaus – Vice President of Public Affairs, Automobile Dealers Association
Dan Chen – 3M
Ryan Daniel – St. Cloud Metropolitan Transit
Jacob Frey – Mayor, City of Minneapolis
Michael Gorman – Split Rocks Partner
John Hausladen – CEO, Minnesota Trucking Association
Laurie McGinnis – Director, University of Minnesota Center for Transportation Studies
Myrna Peterson – Mobility Mania
Edward Reynoso – Teamsters Joint Council
Damien Riehl – Managing Director, Fastcase Legal Research Platform
Vicky Rizzolo – American Family Insurance
Patrick Weldon – Polaris
Ex Officio members
Mayor Jason Gadd – League of Minnesota Cities
Mayor Tina Folch – League of Minnesota Cities
Commissioner Alice Roberts-Davis – Department of Administration
Commissioner Thom Peterson – Department of Agriculture
Commissioner Steve Kelley (Represented by Anne O'Connor) – Department of Commerce Commissioner
Commissioner Steve Grove – Department of Employment and Economic Development
Commissioner Jan Malcolm (Represented by Emily Smoak) – Department of Health
Commissioner Anthony Lourey – Department of Human Services
Commissioner Mark Phillips (Represented by Jason Metsa) – Iron Range Resources and Rehabilitation Department
Commissioner John Harrington – Department of Public Safety
Commissioner Cindy Bauerly – Department of Revenue
Commissioner Tarek Tomes – MNIT Services
Commissioner Laura Bishop – Minnesota Pollution Control Agency
Wayne Sandberg – County Representative of Association of Minnesota Counties
Joan Willshire – Executive Director of Minnesota Council on Disability
Rep. Connie Bernardy – Majority Party Representative for Minnesota House of Representatives
Sen. Scott Newman – Majority Party Representative for Minnesota Senate
Sen. Scott Dibble – Minority Party Representative for Minnesota Senate
Chairwoman Cathy Chavers – Tribal Member for Minnesota Indian Affairs Council of Board of Directors
Erik Rudeen – Staff Support from MnDOT Government Affairs
Advisory Council meetings
Dec. 13, 2019 meeting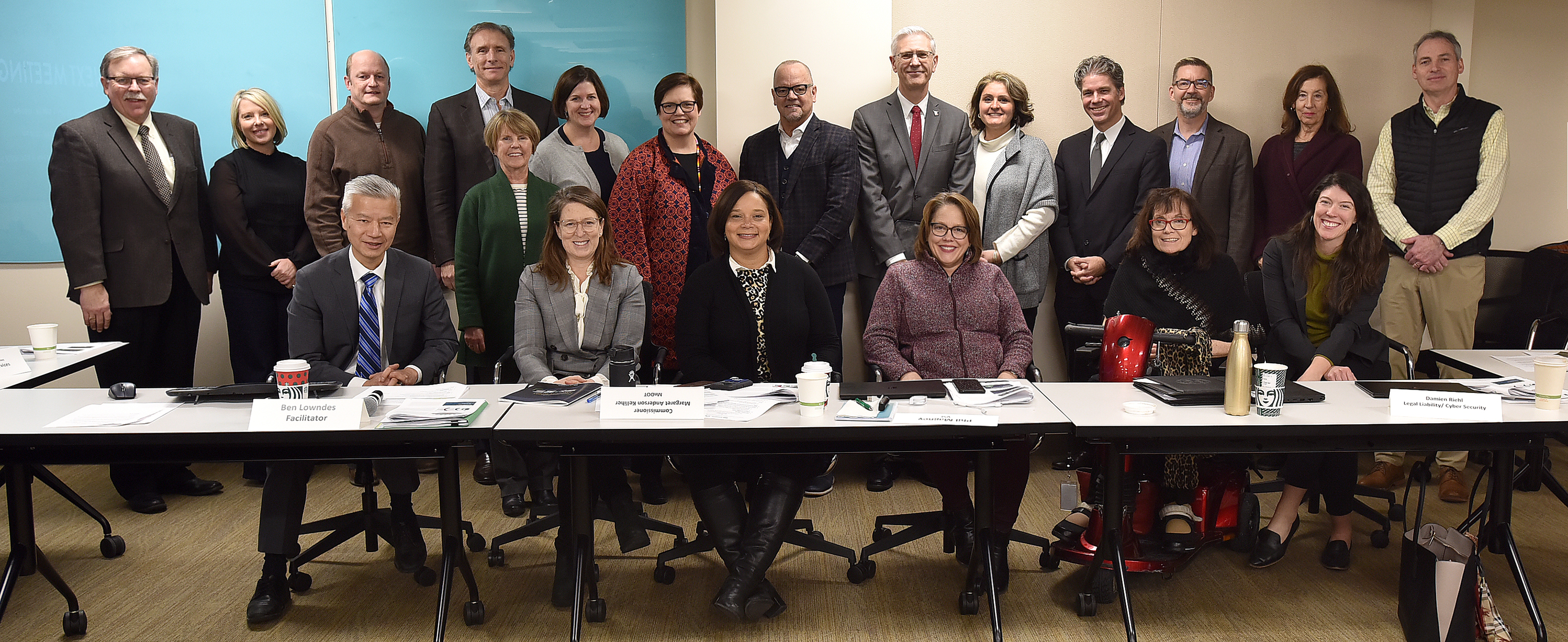 Governor Tim Walz' Connected and Automated Vehicle Advisory Council met for the first time on Friday, Dec. 13, to discuss the future of transportation in Minnesota. The committee is co-chaired by MnDOT's Commissioner Margaret Anderson Kelliher and VSI Labs President Phil Magney.
The next meeting is scheduled for Wednesday, Jan. 22, from 9 a.m. to noon CST.
For questions and comments about the CAV Advisory Committee contact Kristin White at kristin.white@state.mn.us.
Meeting materials
January 22, 2020
December 13, 2019
CAV Advisory Council goals
Executive Order 19-18 (PDF), which established the CAV Advisory Council, outlines several priorities for its members, including:
Study, assess, and prepare for the opportunities and challenges that CAV may bring
Review CAV developments and trends
Explore partnership opportunities
Propose policies to safely test and deploy CAV
Implement recommendation from the 2018 Advisory Council's Executive Report
Consult with communities experiencing transportation barriers not represented on the Council
Prepare an annual report to the Governor by February 1, 2020 addressing Council activities and actions needed to ensure Minnesota is advancing CAV
Advise and support the Governor, MnDOT, the Department of Public Safety, and local government to support the safe testing and deployment of CAV
Add your name to the email list
Contact the Connected and Automated Vehicle Program's Executive Director, Kristin White at kristin.white@state.mn.us to add your name to the email list to receive CAV Advisory Council updates, or to learn more about the Minnesota CAV Advisory Council.         
Related resources