MnDOT honored at Secretary of Defense Freedom Award ceremony for its support of National Guard and Reserve employees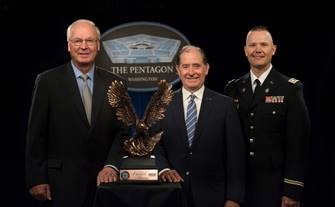 BEMIDJI, Minn. — The Minnesota Department of Transportation was recognized as a recipient of the 2018 Secretary of Defense Employer Support Freedom Award on Friday, Aug. 24, at the Pentagon Auditorium in Washington, D.C.
The award is the highest U.S. government honor to employers for support of National Guard and Reserve employees.
"It's a tremendous honor to be receiving the Freedom Award," said Eric Davis, chief of staff. "We are proud of the nearly 500 veterans and employees actively serving as a member of the Guard and Reserve."
Fifteen recipients were selected from the more than 2,350 nominations highlighting how civilian employers went far beyond what federal law requires to support them. The Freedom Award began in 1996 to recognize exceptional employer support, and only 250 companies nationwide have received the award.
MnDOT was nominated by Capt. TJ Melcher, district 2 public engagement director.
"As a member of the Minnesota National Guard," said Melcher, "I am proud of the supportive culture at MnDOT; it's what sets them apart from other employers. The exceptional care of leaders, along with the additional devotion of regular employees, to supporting citizen soldiers and their families."
"Capt. Melcher is a great example of the kind of employee we are so fortunate to have at MnDOT," added Davis. "These men and women continue to serve the transportation needs of Minnesota after serving our nation."
Award nominations come from a Guard or Reserve member who is employed by the organization they are nominating. Nominations were submitted for employers in all 50 states, Guam-CNMI, Puerto Rico, the U.S. Virgin Islands and the District of Columbia.
Established in 1972, Employer Support of the Guard and Reserve (ESGR) is a Department of Defense agency that seeks to promote a culture in which all American employers support and value the military service of their employees.
###