Pedestrian crosswalk system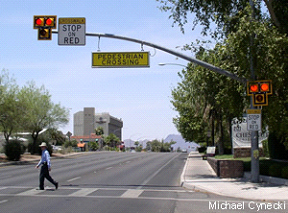 About HAWK technology
The HAWK crosswalk is a unique design and has proven to be safer and more effective than conventional crosswalk designs. The acronym HAWK stands for High intensity Activated cross WalK.
The city of Tuscon, Arizona is operating more than 60 HAWK systems and has found this new crossing system to be effective for the motorist, safer for the pedestrian and less costly to build than full blown traffic signal systems. The systems are also more energy efficient than traditional signal systems as the vehicle signal heads go black when the system is not in use.
The unique double red signal display above a single yellow display gets the motorist's attention by the unusual shape of the display cluster.
Crosswalk on Hwy 23 in St. Cloud
The city of St. Cloud and the Minnesota Department of Transportation partnered to install the first HAWK system in the mid-west on Highway 23/Division Street at 12th Avenue adjacent to the library and Tech High School near Lake George.
The new technology became operational in October 2009.