Portion of Highway 59 south of Detroit Lakes now open to traffic
DETROIT LAKES, Minn. – The detour to Becker County Roads 6 and 22 (Detour B) on Highway 59 south of Detroit Lakes was removed today and that portion of the roadway is now be open to traffic. This detour was part of a resurfacing project on Highway 59 from Willow Street in Detroit Lakes to just south of the Otter Tail County Line that will last through mid-October.
Highway 59 remains closed south of the County Roads 17 and 22 roundabout up to the southern junction with County Road 17. Traffic is being detoured to County Road 17, and this detour (Detour A) will remain in place until early September.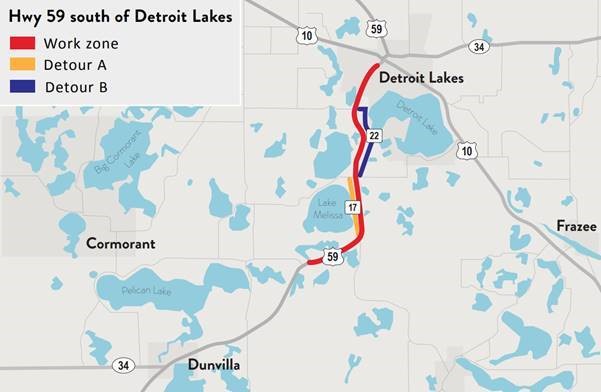 Along with the remaining detour to County Road 17, motorists will also continue to encounter daily lane closures on Highway 59 on the south and north ends of the project. Crews are currently working under traffic on the stretch of highway south of the Otter Tail County line up to County Road 17. After Labor Day, they will move to the north end of the project between County Road 6 and Willow Street.
A pilot car and flaggers will control traffic in the areas where crews are working. Motorists are urged to slow down in work zones and never enter a roadway that has been blocked with barriers or cones.
Businesses, residents and motorists can view the detour map and keep up to date with the schedule on the project website mndot.gov/d4/projects/hwy59dl/.
For real-time traffic and travel information in Minnesota, visit www.511mn.org or get the free smartphone app at Google Play or the App Store.