MnDOT's 2022-23 Name a Snowplow contest
The votes are in!
This year, more than 64,000 people voted for their favorite names – and we're excited to welcome eight new names to the MnDOT snowplow fleet. 
Here are the eight winning names and where they'll be found around the state: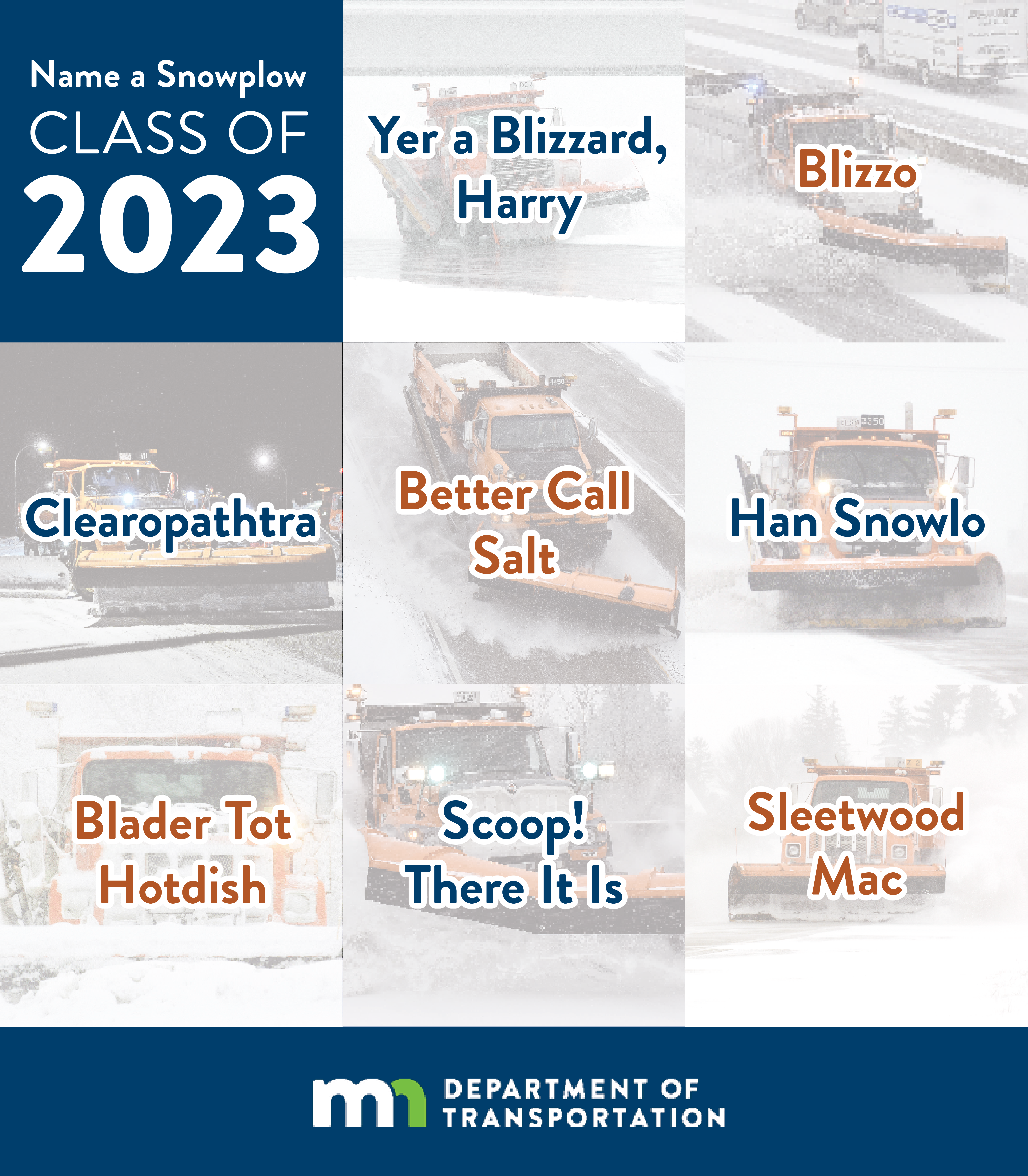 Yer a Blizzard, Harry
District 8 (Southwest Minnesota)
Blizzo
Twin Cities (Metro District)
Clearopathtra
District 1 (Northeast Minnesota)
Better Call Salt
District 3 (Central Minnesota)
Han Snowlo
District 7 (South Central Minnesota)
Blader Tot Hotdish
District 2 (Northwest Minnesota)
Scoop! There It Is
District 6 (Southeast Minnesota)
Sleetwood Mac
District 4 (West Central Minnesota)
Vote totals
Below are the total votes cast for all 60 names. Individuals were able to vote for up to eight choices, so the final totals will differ from the overall number of votes. There was a total of 64,075 unique voters.
| Rank | Name | Votes |
| --- | --- | --- |
| 1 | Yer a Blizzard, Harry | 15,248 |
| 2 | Blizzo | 14,935 |
| 3 | Clearopathtra | 12,729 |
| 4 | Better Call Salt | 12,112 |
| 5 | Han Snowlo | 11,361 |
| 6 | Blader Tot Hotdish | 10,901 |
| 7 | Scoop! There it is | 10,728 |
| 8 | Sleetwood Mac | 10,397 |
| 9 | Taylor Drift | 9,921 |
| 10 | Sir Plows-a-Lot | 9,741 |
| 11 | Goonodaabaan (Ojibwe word for "snow vehicle") | 9,564 |
| 12 | Aaron Brrrr, Sir | 9,434 |
| 13 | Ain't My First Snowdeo | 9,389 |
| 14 | Snow Force One | 9,037 |
| 15 | Hippoplowtamus | 8,823 |
| 16 | Plowabunga! | 8,381 |
| 17 | Just Scraping By | 8,347 |
| 18 | SKOL Plow | 8,284 |
| 19 | Harmon Chillebrew | 8,156 |
| 20 | Camp Scoopy | 7,966 |
| 21 | Alice Scooper | 7,790 |
| 22 | Clark Blizzwald | 7,504 |
| 23 | Beyonsleigh | 7,428 |
| 24 | Buzz Iceclear | 7,413 |
| 25 | Freeze Louise | 7,391 |
| 26 | Melton John | 7,171 |
| 27 | Ičamna (Dakota word for "blizzard") | 7,134 |
| 28 | Waipahiƞte (Dakota word for "snow plow") | 7,082 |
| 29 | I Came, I Thaw, I Conquered | 6,609 |
| 30 | Miracle on Ice | 6,227 |
| 31 | Best in Snow | 6,173 |
| 32 | Spirit of '91 | 6,134 |
| 33 | Say it Ain't Snow | 6,068 |
| 34 | Optimus Brine | 5,776 |
| 35 | Mary Tyler More Snow | 5,685 |
| 36 | Ace of Blades | 5,392 |
| 37 | The Name's Plow, Snowplow | 5,311 |
| 38 | Plow Patrol | 5,297 |
| 39 | Here we Snow Again | 5,281 |
| 40 | Mighty Morphin Plower Ranger | 5,244 |
| 41 | Plower to the People | 5,058 |
| 42 | Bohemian Rhapsnowdy | 4,959 |
| 43 | One Plow Two Plow Red Plow Blue Plow | 4,815 |
| 44 | Orange You Glad to See Me | 4,739 |
| 45 | Ted Las-snow | 4,594 |
| 46 | Blades of Flurry | 4,488 |
| 47 | Bobsled Dylan | 4,439 |
| 48 | Bladezilla | 4,291 |
| 49 | Wolfgang Amadeus Snowzart | 4,210 |
| 50 | Lollaplowlooza | 3,361 |
| 51 | Queen El-ice-abeth II | 3,099 |
| 52 | Point of Snow Return | 3,080 |
| 53 | Paisley Plow | 3,054 |
| 54 | L'etoile du Nordy | 3,009 |
| 55 | Plowie Anderson | 2,652 |
| 56 | Kim KarDashing Thru the Snow | 2,230 |
| 57 | For Cold Times' Sake | 2,025 |
| 58 | Snow and Tell | 1,429 |
| 59 | It's a Squall World After All | 1,215 |
| 60 | As the Snow Flies | 1,131 |