Find people, ask questions and give your input
Questions or comments about our activities? Here are some ways you can reach us
Contact MnDOT Customer Relations with your questions, comments or concerns. Submit questions or comments
Call the Information Center, M-F, 8 - 4:30. 651-296-3000, or 800-657-3774 (toll-free from Greater Minnesota)
NOTE: If you have an emergency condition to report, please call 911.
General contacts
Contact a MnDOT employee:
Visit our headquarters: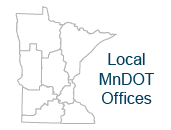 Central Office map (PDF 0.5 MB)
Transportation Building
395 John Ireland Blvd
Saint Paul, MN 55155
Find a district office statewide:
Find MnDOT top staff:
Traveling through our state
Check out current road conditions, maps and more:
Looking for a MnDOT job?
Need a transportation issue resolved?