Minnesota maps
Resources for exploring Minnesota.
Related links
State, County and City Maps
Official state highway map - Online resource includes regional maps, historic sites, state parks and mileage chart.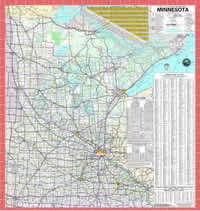 General
Real-time traffic maps
Traffic video camera maps
Traffic cameras in the Twin Cities Metro Area and many locations in greater Minnesota provide images of traffic and weather conditions. The images are updated approximately every 60 seconds.
Metro area cameras:
Greater Minnesota traffic cameras:

Special Interest Maps
Geographic Information System is a computer-based tool for mapping, storing, analyzing, and sharing geographically-referenced spatial data.