Current
Plan to see roadwork on Hwy 55 in Brooten and Belgrade through July 2021. There will be multiple teams working in both towns. Watch for workers and equipment and follow signs.
Hwy 55 Brooten
Through mid-June
Westbound Hwy 55 closed and detoured northwest along Railway Ave., Second Ave. and School Ave.
Eastbound Hwy 55 closed and detoured southeast along Western Ave. S and Roe St.
Pedestrians will encounter sidewalk closures along Hwy 55, follow detour signs.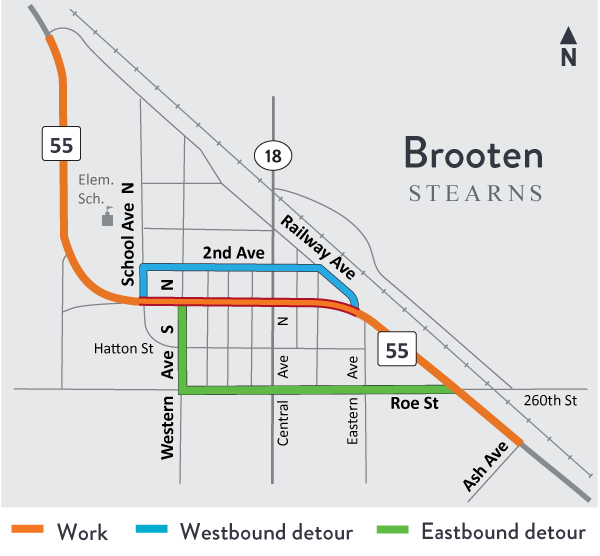 Hwy 55 Belgrade
Motorists: Alternate one-way traffic May 18 through late May
Motorists to encounter a temporary traffic signal with alternate one-way, one lane traffic on Hwy 55 between Langdon Ave. and Borgerding Ave. in Belgrade through late-May (10 working days). Be prepared to stop and wait until the signal is green, and it is safe for you to travel through the work zone. Watch traffic in front of you, they may stop to turn.
Side street access:
Washburn Ave. closed
Lowery Avenue or Oswald Avenue open
Pedestrians to encounter closured sidewalks and areas, follow detour signs
The purpose of the alternate one-way traffic is to allow crews to reconstruct the center median of the road. Once completed, both directions of traffic to be shifted to the north side of the road, to reconstruct the south side and the temporary signals removed.
Work progress
The north side of Hwy 55 to be completed May 18, which includes the westbound lane, shoulder and sidewalk between Langdon Ave. and Borgerding Ave. Some minor turf work yet to be done.
All pipes installed beneath Hwy 55.
May 18-28: Reconstruct the median (center turn lane)
May 18-mid June: Reconstruct the south side of Hwy 55, which includes the eastbound lane, shoulder and sidewalk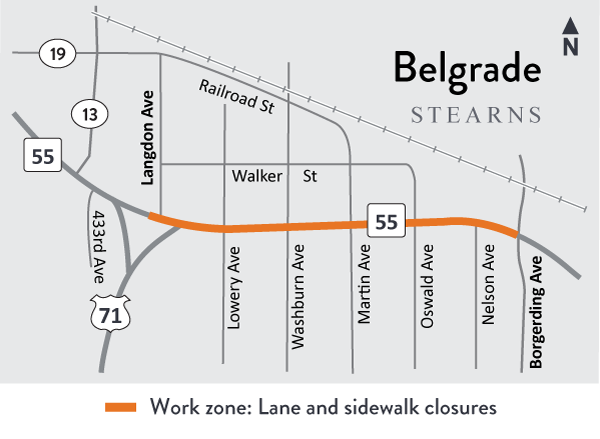 Brooten and Belgrade open for business
Hwy 55 will be open and maintained to those who live, work or visit Brooten and Belgrade. However, expect changes and watch for directional signs when navigating through the area.