Hwy 23 South Gap detour begins May 1
WILLMAR, Minn. – The Minnesota Department of Transportation announces that a detour for the Highway 23 South Gap project begins May 1 and is expected to run through October 27. Highway 23 will be closed from Hawick to Paynesville. Traffic will be routed to Kandiyohi County Road 2 and Highway 55; a detour map is attached.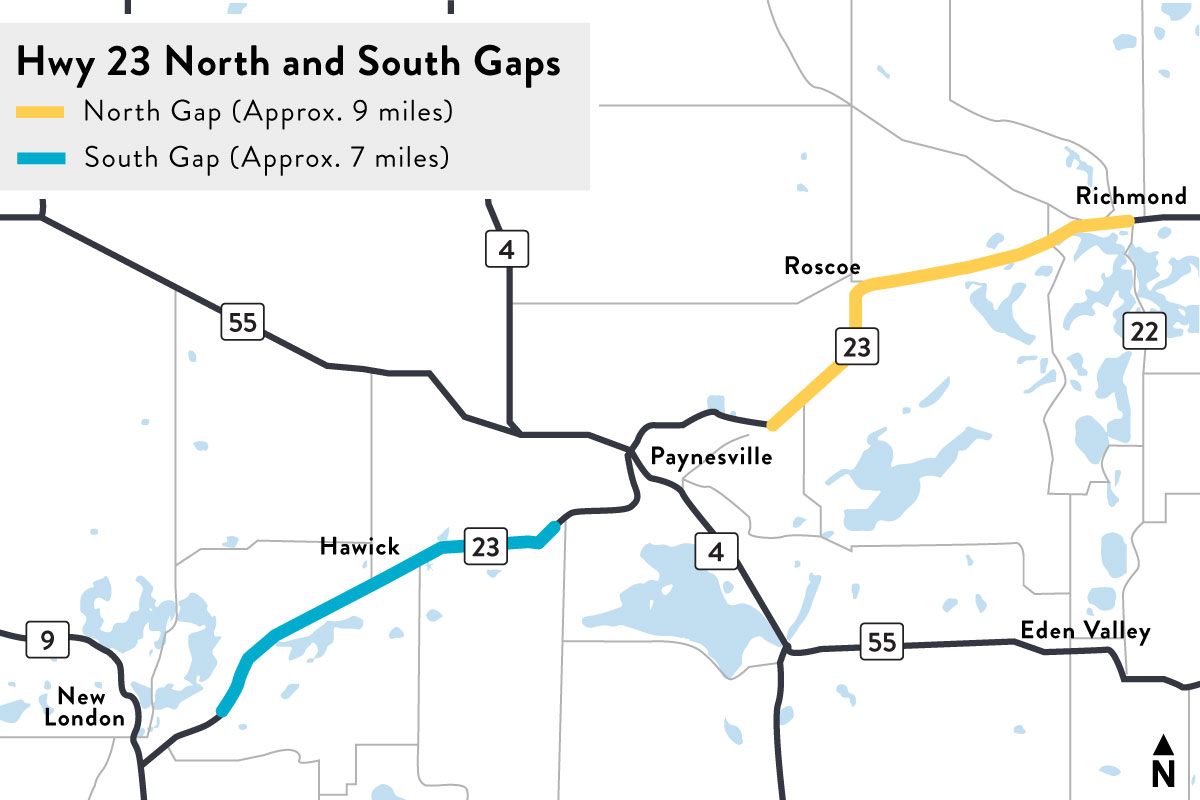 Access will be open to those who live, work, or visit homes and businesses along Highway 23; however, drivers can expect changes and use of alternate entrances as Highway 23 will be a busy work zone. Residents, business owners, and visitors should watch for construction signs, lane closures, gravel surfaces, flaggers, road crews, and heavy equipment.
Additional traffic impacts
Construction taking place this year from New London to Hawick will mostly be done under traffic.
A 10-day detour will be required near Hawick in early October 2023 for the installation of a temporary culvert to divert water around the new box culvert being installed at the Long Lake outlet.
DNR parking lots will close temporarily later this summer/fall.
More information about the short-term detours will be available later this summer.
Construction in 2024 is expected to take place primarily under traffic; however, brief closures may be necessary.
Dates are subject to change depending on weather and other unforeseeable circumstances.
Highway 23 expansion projects
The South Gap project expands seven miles of Highway 23 to four lanes, from New London to Paynesville. Safety will be enhanced at intersections along the corridor and a pedestrian underpass will be constructed near Hawick. The two-year project will conclude in 2024.

The South Gap project is part of the three-year Highway 23 Gaps expansion project which received funding through the Corridors of Commerce program in May 2018. In addition to the South Gap, the North Gap expansion of Highway 23 to four lanes from Paynesville to Richmond is scheduled for completion this year. When the North Gap and South Gap sections are both complete, Highway 23 travelers will be able to experience continuous four-lane travel from Willmar to Foley.

Project benefits and cost
Benefits of the project include improved traffic flow and freight movement, as well as overall corridor performance, capacity, and safety. Mathiowetz Construction is the contractor for the South Gap project, and the cost is $34.5 million.
###