What is the Adopt a Highway Program?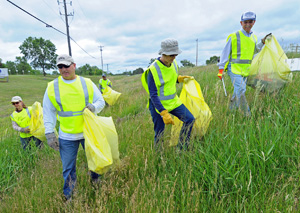 It is a public service program for volunteers from the public to pick up litter along Minnesota's highways.
Adopt a Highway enables the state's environmentally conscious citizens to make a personal contribution to a cleaner environment. Adopt a Highway volunteers save MnDOT $5 million every year.
How does it work?
Community groups, churches, individuals or businesses adopt a highway by picking up litter on both sides of a road for at least two years.
MnDOT will help your group select a highway to adopt. Roads that have very heavy traffic or are inaccessible to pedestrians are not eligible.
How do I start?

Contact your local Adopt a Highway coordinator
Choose a representative for your group. The representative will sign an agreement on behalf of the group.
All participants in the group must review the safety information provided by MnDOT before every pickup
Participants must be at least 12 years old unless specifically permitted. Participants 18 years old or younger must have adequate adult supervision.
MnDOT provides volunteers with safety vests, trash bags and safety information.
What if I'm interested in doing a one-time project?
Pick a Highway is a one-time litter picking activity on an assigned segment of state highway. MnDOT will provide the bags, vests, training, and bag retrieval. You contribute approximately four hours of labor.
Is your class seeking an environmental project? Does your business coordinate employee activities in the community? Pick a Highway better fits these these situations. Contact an Adopt a Highway coordinator.