Updates
Design process for the Highway 52 Southbound recommendations
We have reviewed the proposed concepts and incorporated design enhancements into the working drawings of the intersection. Additionally, MnDOT hosted an independent engineering review of the County 7 intersection, with regard to existing conditions and available options. This was conducted by technical experts outside the project team, including a mix of outside engineering consultants, who are not part of the design team and MnDOT staff, who are not assigned to the project.
The intersection design evaluation provides an overview of our process in reviewing the various design options, including the advantages and disadvantages of each design that we considered. We encourage you to review the document.
Here are some key takeaways:
Two design proposals for the County 7 and Highway 52 intersection were considered. The second proposal includes a design (2A), which is a modification on the basic design.
Proposal #1 calls for a full access intersection + an immediate median U-turn lane near the intersection + gravel shoulder for slow-moving vehicles
Proposal #2 calls for a limited access intersection + southbound median acceleration lane
Proposal #2A calls for a full access intersection + southbound acceleration lane
We held an open house on March 4 in Zumbrota that was attended by more than 160 people. Review these designs and other information (PDF)
About this project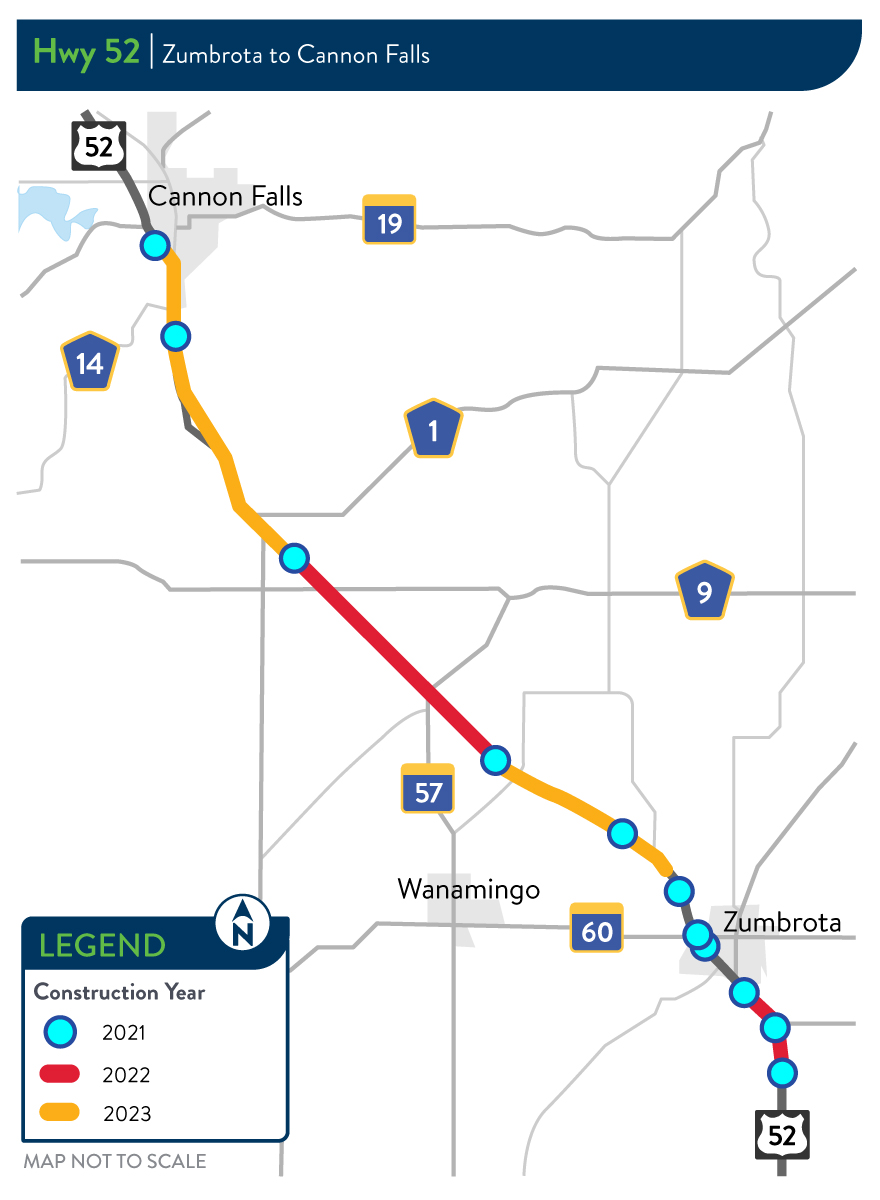 The Highway 52 corridor has been identified in several major transportation planning studies for improvements.  One of them, the Highway 52 Interregional Corridor Management Plan, prompted the development of a vision to transition the highway to a freeway design with no direct access.
In 2017, MnDOT received additional highway funds from the Minnesota Legislature.  Through public outreach, the public and those who have an interest or concern with our highways, were asked what their priorities would be if changes could be made.

From that input, MnDOT developed investment priorities and selected a section of southbound Highway 52 to receive improvements.

The project follows along Highway 52, from roughly 2 miles south of Cannon Falls and ends about 2 miles north of Zumbrota. 

MnDOT is proposing the bridges at Highway 52 and Highway 60, both east and west, in Zumbrota to be replaced. 

The junction of Highway 57/Goodhue County Road 8 and Highway 52 in Hader is being designated for an interchange.  During the design stage of the project, more safety and access management may be looked at and added.

Project schedule (tentative, subject to change)
Preliminary design - summer of 2018 through the Fall/Winter of 2019. Current stage.
Construction - spring of 2021
Completion - fall of 2023.