About this study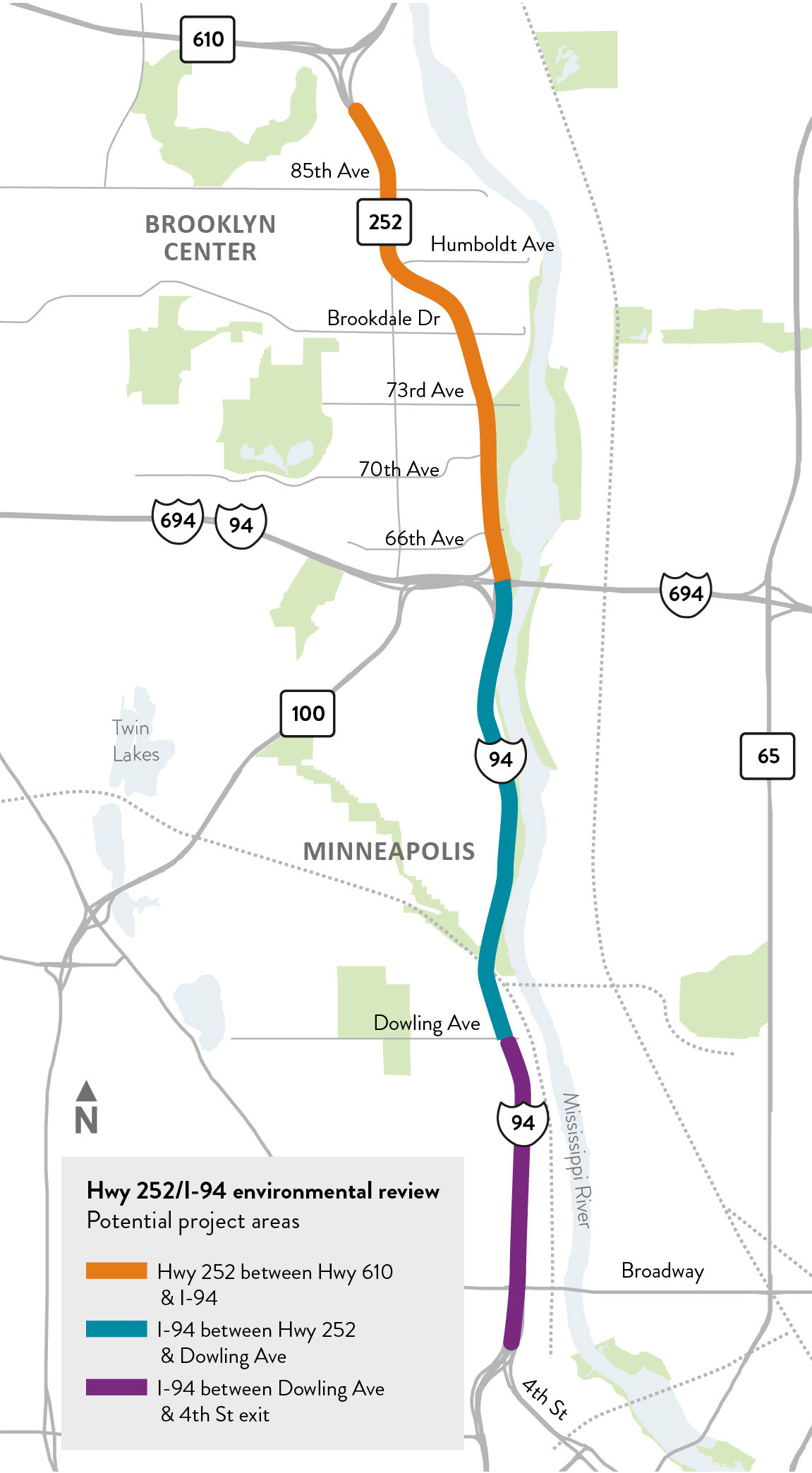 Hennepin County, the Minnesota Department of Transportation and the cities of Brooklyn Center, Brooklyn Park and Minneapolis are developing proposals to address the future of Hwy 252 and I-94 in Brooklyn Park, Brooklyn Center and western Minneapolis. An environmental review is underway to develop solutions to reduce congestion, improve safety and address reliability on the two highways:
Hwy 252 between Hwy 610 in Brooklyn Park and I-694 in Brooklyn Center
I-94 from I-694 in Brooklyn Center to downtown Minneapolis
Conversion to a freeway is being considered for Highway 252. The addition of MnPASS lanes is being considered for both Hwy 252 and I-94. These changes would affect drivers, transit riders, pedestrians, and bicyclists in the area.
MnDOT's Office of Traffic Safety maintains a crash database to assist in planning safety programs and projects. That information includes a statewide ranking of the costs of crashes on state highways and at intersections along state highways. Crash rates are based on the number of crashes per million vehicle miles traveled.
Hwy 252 has five intersections in the top 100 Statewide Crash Cost Ranking.
Summary of work
Study traffic flows and the crash history in the area
Estimate future traffic flows, congestion, travel time reliability and options to improve safety and circulation
Develop options for interchanges, overpasses or closures to replace signalized intersections
Develop conceptual designs and recommend one option for further study
Seek feedback from residents, business owners and commuters
Identify how to fund the improvements