About this project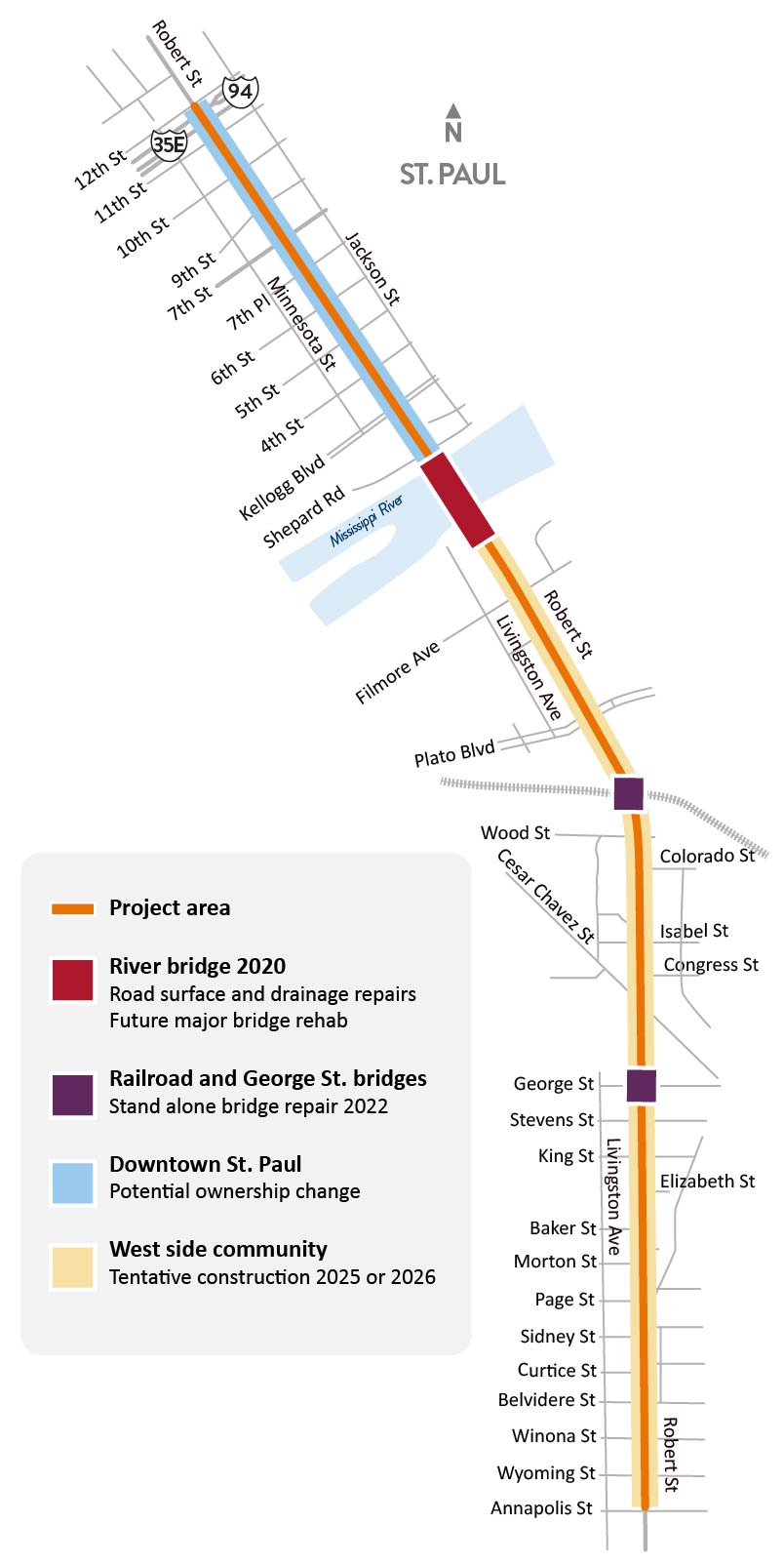 We have made several repairs along Robert St. in 2020, including pedestrian improvements and minor repairs of the Robert St. Bridge over the Mississippi River in St. Paul. We are also planning to make minor repairs to the bridge over the Union Pacific railroad and to the Robert St./George St. viaduct. In addition, we are planning significant improvements to Robert St. in future years.
The future of Robert St.
MnDOT is planning significant improvements to Robert St. between Annapolis St. and Fillmore Ave. in 2025 or 2026. As a part of this planning process, MnDOT sought community feedback to gather input on various topics, including safety improvements, accessibility and street design features. This engagement included an online survey, interactive comment map and a series of virtual public meetings in summer and fall 2020.
During the community engagement period, MnDOT received comments from more than 1,300 people along the corridor and across the Twin Cities metro area. Many people suggested pedestrian safety improvements, like improved sidewalks and crosswalks, and bicycle safety improvements, like considering adding a bike lane. Other recurring comments involved the need for reduced vehicle speeds, adding pullovers for buses, and adding more greenery, public art and improved lighting.
A summary of community engagement activities and feedback has been compiled into a public report. This community input will influence MnDOT's designs for future improvements on Robert St.
After designs are developed, there will be another community engagement period for people to provide additional input. Any future work along Robert St. will be completed in coordination with other public entities, including the City of St. Paul and the Metropolitan Council, to limit construction disruptions for residents, businesses and property owners.
Pedestrian safety pilot project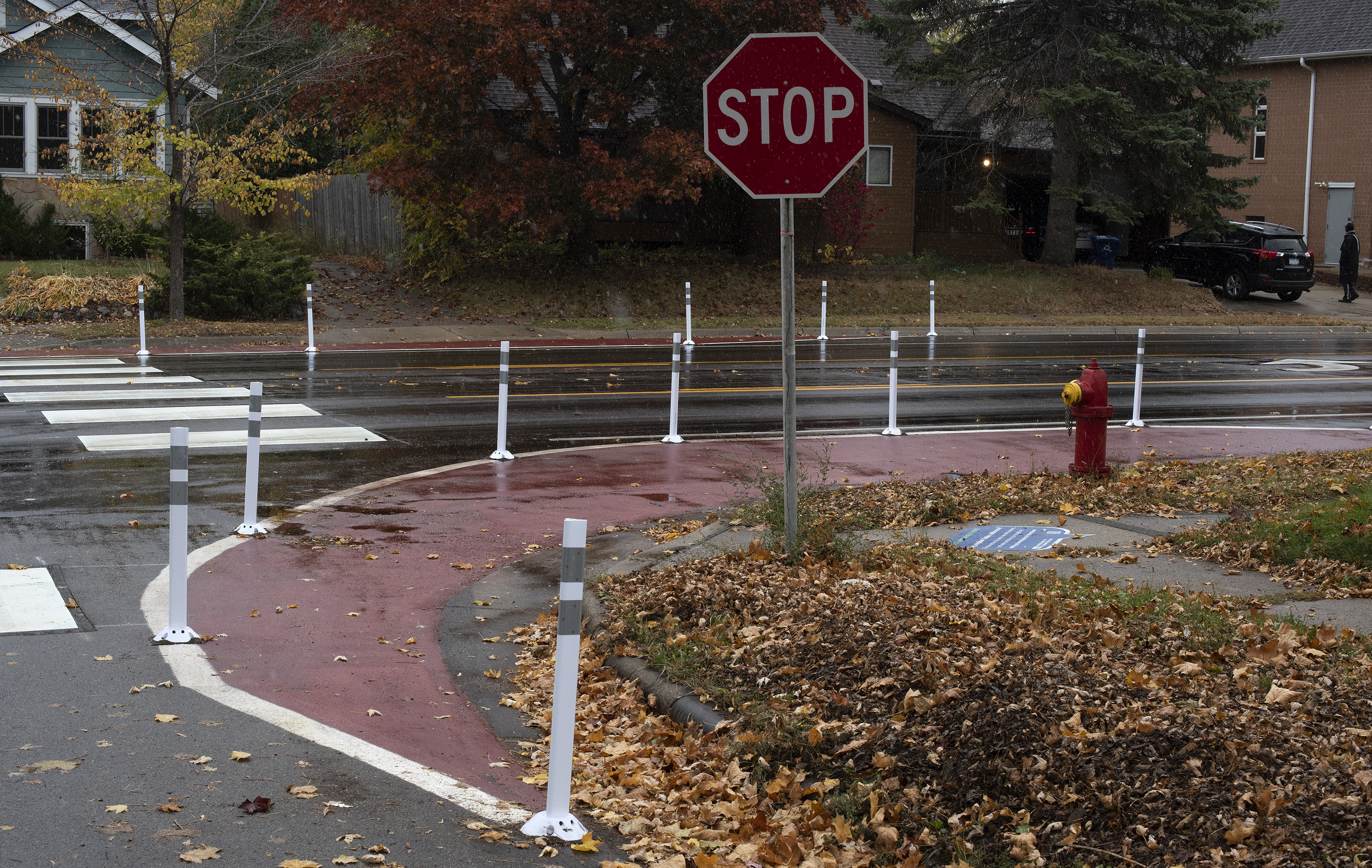 MnDOT installed temporary safety features at the intersections of Baker St. and Robert St. and Isabel St. and Robert St. in October 2020.
These temporary safety features, called curb extensions (or bump-outs or bulb-outs), visually and physically narrow the roadway. This creates shorter crossings for pedestrians and increases visibility for people walking and driving. Curb extensions will not take any parking away or affect access to driveways, but may make parking near the corner more difficult.
The goal of this project is to test the curb extensions before committing to them as a long-term design improvement at the intersection. While the curb extensions are in place, MnDOT is evaluating pedestrian and driver behavior and determining the impact they have on traffic, such as pedestrian usage and vehicle speeds.
There is currently no specific date for the removal of the extensions, but they will be maintained by MnDOT for the foreseeable future.
Share your thoughts on these temporary curb extensions by completing our feedback form.
Summary of work
Micro-surface and restripe Robert St. between Annapolis St. (south of the Mississippi River) and 11th St. in downtown St. Paul (just south of I-94): June through July 2020
Repair Robert St. Bridge over the Mississippi River: July through August 2020
Test temporary curb extensions at the intersections of Baker St. and Robert St. and Isabel St. and Robert St.: Begins fall 2020
Construction of corridor improvements: Tentatively 2025-2026