Project update
July 2021
Learn about the study's progress, public input to date, technical traffic analysis and next steps. Read Hwy 25 project update.
About this project study
MnDOT, in partnership with Wright County and the Cities of Buffalo and Monticello, is conducting a corridor study to identify access and safety improvements on Hwy 25 between Catlin St. in Buffalo and Kjellberg Ct. in Monticello.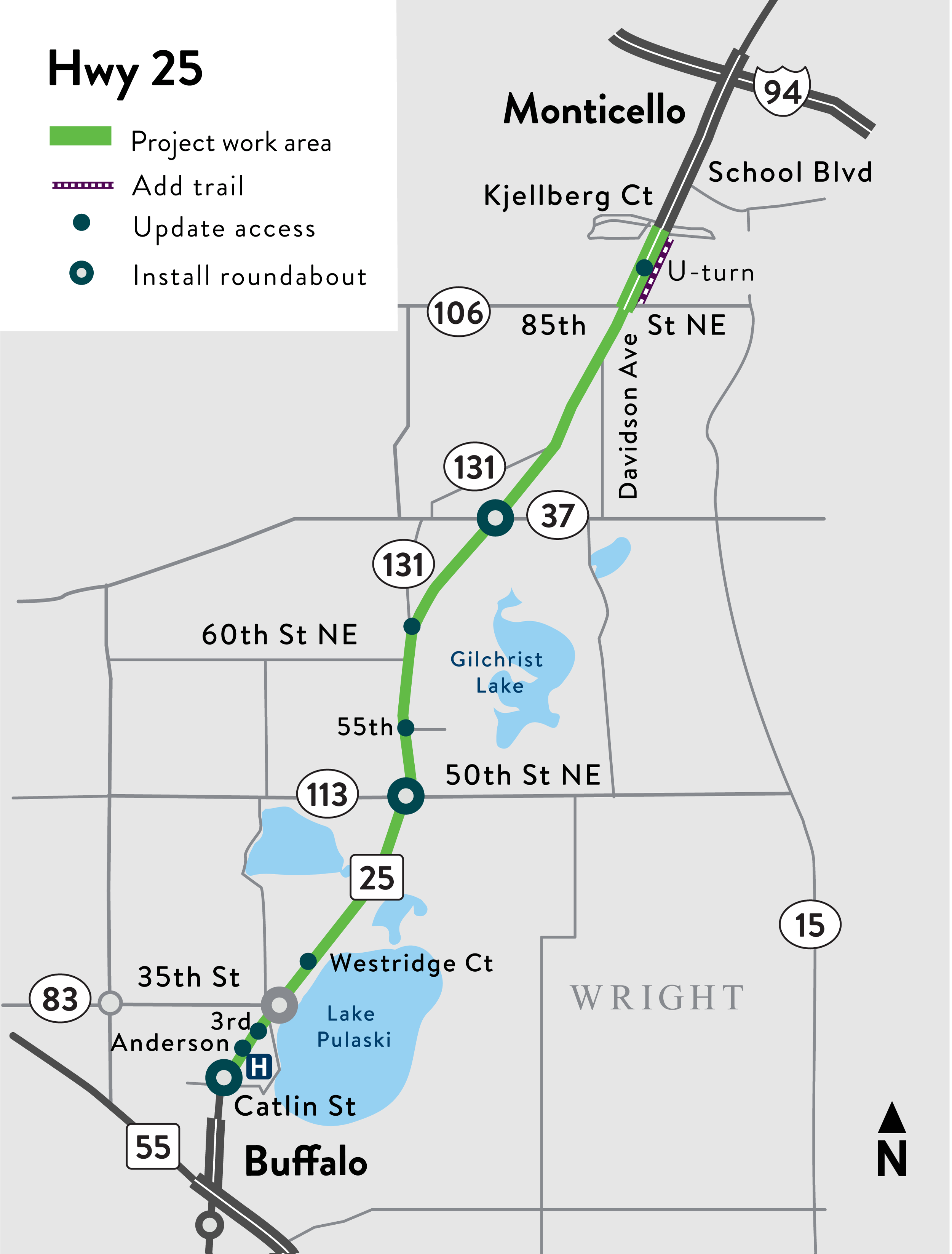 Overview and timeline
The study kicked off late 2020 and will include several public input opportunities through 2021.
Road and access conditions have been studied through March and included traffic counts, traffic forecasts as well as safety concerns within the Hwy 25 study area. Read online project update.
Alternative recommendations will be made by early fall 2021. Considerations include use of turn lanes, access management, sightlines on curves, shoulders, pedestrian crossings and overall safety along the Hwy 25 corridor.
The final study will be published in fall 2021.
About this future project
MnDOT will improve Hwy 25 from Catlin St. in Buffalo to Kjellberg Ct. in south Monticello, Wright County. In 2026, the project will:
Resurface the road, includes shoulders and turn lanes
Construct left turn lanes at Wright Co. Rd. 113
Improve the turnaround south of Kjellberg Ct. (extended shoulder called a 'loon')
Replace pipes and improve ditch drainage
Upgrade the signal system at Wright Co. Rd. 37
Consider the safety and access recommendations indicated in the 2021 Corridor Study Report