Resources
Contact
St. Cloud Training Center Front Receptionist
320-223-6500 or 800-657-3961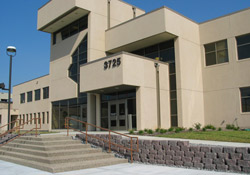 About the facility
Read the detailed handout for more information about the facility including: location, available rooms, reservations, security, parking, equipment, housekeeping, deliveries, fees and more.
Computers are available in the commons area for checking e-mails, and vending machines for beverages and snacks.
Room reservations
Reservation forms must be completed and sent via email into the Training Center Front Desk Receptionist to receive a room reservation and confirmation number
The largest room seats 177. The facility also includes a computer lab equipped with 10 student stations and one instructor's station.
Reservations must be made at least two weeks prior to an event. Smaller events consisting of eight individuals or less need to be scheduled at least 48 hours prior to the event.
Location

The Minnesota Department of Transportation St. Cloud Training Center and District 3 Office and Maintenace Facility, is located off Highway 15 at 3725 12th St N (across from Apollo High School track field). Motorists may access Highway 15 from Highway 10, Highway 23, or Interstate 94.
The St. Cloud area includes the communities of Sartell, Waite Park and Sauk Rapids.