About this project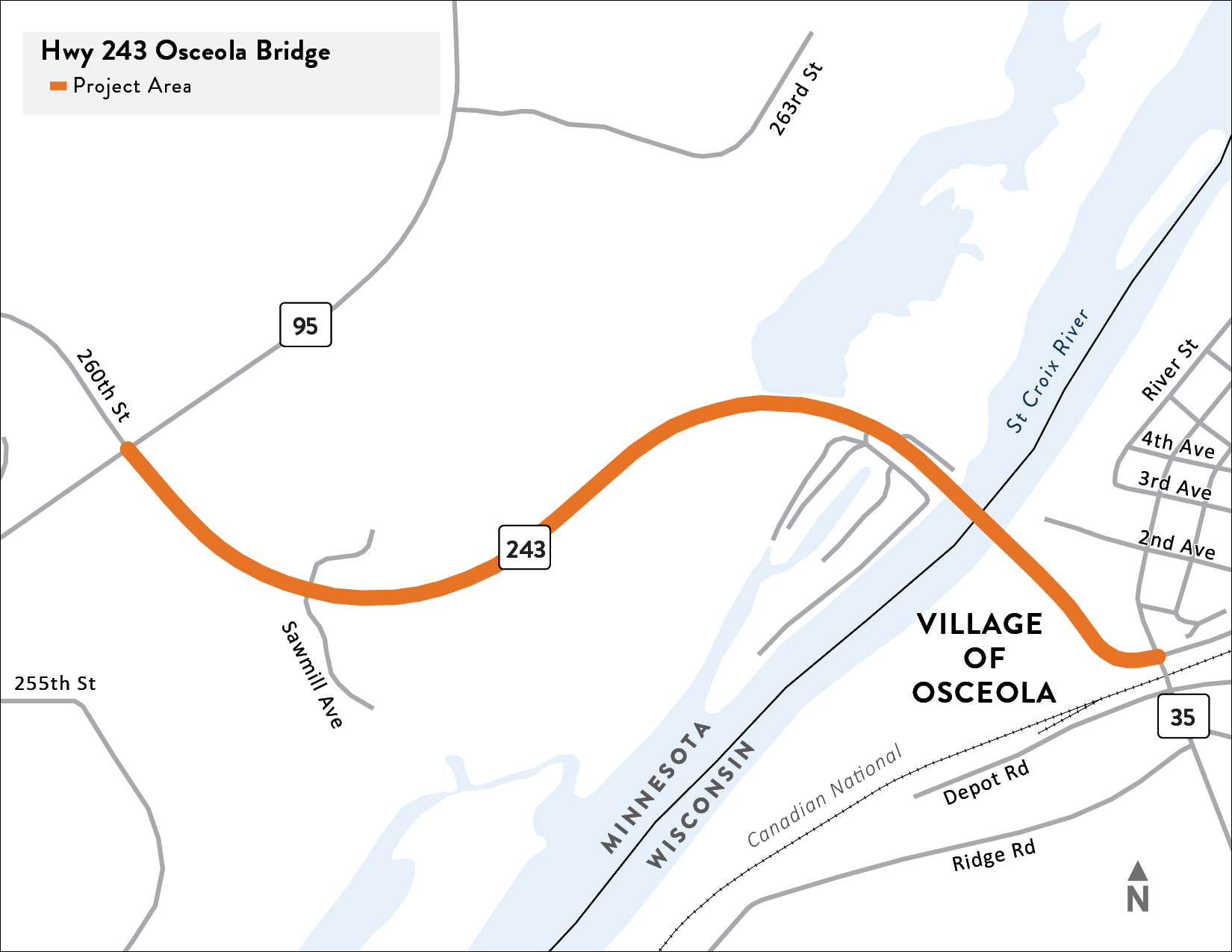 We are in process of designing the reconstruction of the Hwy 243/Osceola Bridge over the St. Croix National and Scenic Riverway, in partnership with the Wisconsin Department of Transportation (WisDOT). The Osceola Bridge was built in 1953.
The bridge is reaching the end of its service life due to its age. However, the current condition of the bridge is safe for general travel. MnDOT inspects the bridge annually and evaluates the bridge deck, trusses, supports and other overall factors to evaluate the condition of the bridge and identify needed repairs. The last inspection took place in April of 2022 and no new areas of concern were identified. Commercial trucks over certain weights are restricted from using the bridge.
The Hwy 243 bridge will be replaced. MnDOT and WisDOT completed an evaluation of the existing piers and footings (to request a copy of this document, contact us) and decided that it is not feasible to reuse any portion of the existing structure. Additional needs for the project include accommodations for people walking and biking, and drainage improvements. The project team will consider bridge alternatives that include bike and pedestrian accommodations. The sensitive environmental constraints on both the Minnesota and Wisconsin road approaches will also be taken into consideration as these changes are evaluated. Additional information can be found in the project's Purpose and Need document.
After completing a multi-step evaluation process that looked at seven potential bridge alignments, the project team has identified a recommended alignment for the bridge. The recommendation is to maintain the existing alignment. This recommendation was presented to the public on Wed, May 10 at a public meeting in Osceola, WI. The public can learn more about the evaluation process, recommended alignment, and next steps here on the project website. In addition, the public can contact or submit comments to the project team on the contacts tab of this webpage. Check out the narrated Public Meeting presentation video!
Summary of work
The purpose of this project is to maintain a reliable highway connection over the St. Croix River for Hwy 243 between Washington/Chisago counties in Minnesota and the Village of Osceola and Polk County in Wisconsin. The project team will work with federal, state and local interests to minimizing project impacts to the St Croix River and other natural resources in the area.
Project needs
The "need" identifies the transportation problems to be addressed by the project outcomes.
Bridge conditions
Evaluate pedestrian bridge crossing by foot and by bicycle
Drainage conditions
Additional considerations
Bridge traffic during construction
River navigation and access during construction
Osceola Landing Access
Hwy 243 Wayside Rest (MN)
Hwy 243 Emergency Pull-off (WI)