Allied Radio Matrix for Emergency Response - ARMER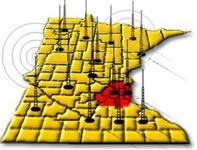 MnDOT owns, builds, operates and maintains ARMER backbone - Minnesota's shared public safety radio communication system.
The system backbone is a network of radio towers, equipment shelters and radio transmission equipment. This trunked backbone is shared by network users throughout the state, as identified in the statewide radio communication plan (PDF) maintained by the Statewide Radio Board.
The ARMER backbone is used by MnDOT, the State Patrol, the Department of Natural Resources, and other state agencies for voice and data communications. The backbone is shared with local governments and other emergency response organizations so that all emergency responders can have interoperable communications with each other.
Statewide Emergency Communications Board
MnDOT works in partnership with the Department of Public Safety and the Statewide Radio Board on the ARMER system. See the SECB website for information about the statewide network, standards, reports, committee meetings and background.
Leasing radio towers
Cities, counties, and other public safety/governmental agencies can request to use space on the MnDOT towers and shelters where there is excess capacity. Other wireless users (non-public safety and private) may also request to use capacity on MnDOT towers where the capacity is not required for public safety users. All requests must be submitted to MnDOT for review and approval. To request a User Request Form or if you have questions about collocating on MnDOT communication towers, please contact:
Resources