Improving interchange safety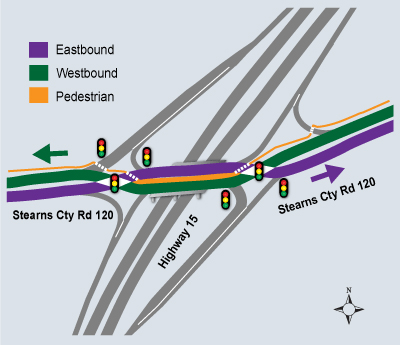 MnDOT is constructing diverging diamond interchanges throughout the state. These interchanges:
Reduce overall traffic delays up to 60 percent
Are safer because they eliminate conflict points that put vehicles in each other's path
Provide better traffic operations and can handle additional capacity 20 years after construction
Read more about other alternative intersection designs.
Recent DDI projects
I-35W and Hwy 97 in Forest Lake
Hwy 169 and Hwy 41 in Jordan
I-494 and 34th Ave. in Bloomington
Hwy 101 and Hennepin Co. Rd 144 in Rogers
County Rd 96 over I-35W in Arden Hills
Elk Run Olmsted County
Hwy 15 and Stearns Co. Rd 120 in St. Cloud
Navigating a DDI
Traffic crisscrosses at either end of the bridge, so instead of making hard left turns, drivers veer to the left for access. Pedestrians cross to the middle of the bridge and walk in the middle between the eastbound and westbound lanes with protective barriers on either side.