Traveling in the southwest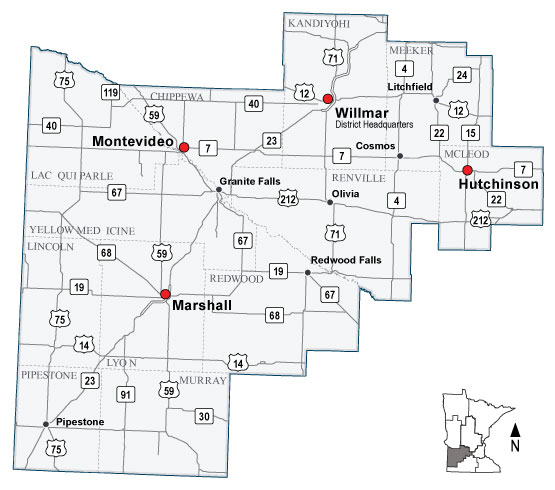 Traffic and roads
District 8 news
MnDOT is looking for individuals interested in construction inspection. Two positions are available out of the Marshall, MN office. Construction Inspector/Hwy Tech positions are full-time and permanent. To apply and see the entire posting visit Minnesota Careers. Search for posting 15936 & 15943. Interested candidates must apply to both postings in order to be considered for both.
MnDOT has just released the full summary of all public engagement activities for the Hwy 12 Litchfield project. Check out the website for more information.
Did you miss the open house in Milan? No problem. Check out preliminary renderings of the bridge and all the materials that were available at the open house on the project webpage.
Soil investigation work on Hwy 12 Litchfield begins week of Sept. 19. Work will be done under traffic.
You're invited! Public open house for the Hwy 23 New London Safety Assessment project is set for Tuesday, Oct. 3 from 5-7 pm at Peace Lutheran Church.
Project completion date for Hwy 7 project has been moved to Sept. 22. The detour will not be removed Sept. 1. The detour has been extended to Sept. 22. For more information visit the project page.