Traveling in the southwest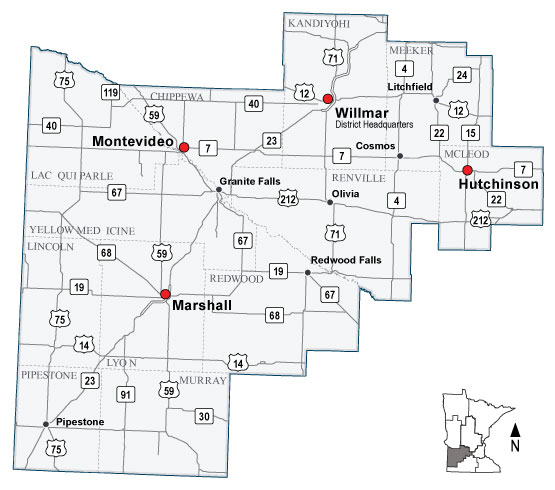 Traffic and roads
District 8 news
Public Open House for the Hwy 12 Downtown Litchfield project will be held Tuesday, Nov. 14 at Litchfield City Hall from 4:30-6 pm.
MnDOT and the City of Litchfield are partnering to test a Rectangular Rapid Flashing Beacon, or RRFB, at the intersection of Hwy 12 and 3rd Street in Litchfield. A RRFB will be installed the week of October 16, 2017 for a testing period of 90 days. The current traffic signal will be hooded and will not be operational. This testing period is an opportunity to collect data and public input. At the end of the evaluation period, the results of the study, including public feedback, will be presented to the Litchfield City Council. For opportunities to give your feedback during the testing period visit the public meetings page.
The Environmental Assessment Worksheet (EAW) for the North Gap (Hwy 23 from Paynesville to Richmond) has been submitted and printed in the EQB Monitor (Oct. 16 edition). It is available for review and comment. Comments will be accepted prior to 4:00 pm on November 15, 2017. Copies of the EAW are available on this webpage, MnDOT District 8 in Willmar (2505 Transportation Road) and at the Willmar Public Library (410 5th St. SW). A public open house was held Nov.1, 2017 at St. Peter and Paul School (111 Central Avenue North) in Richmond, MN from 4-6 pm.