About the Project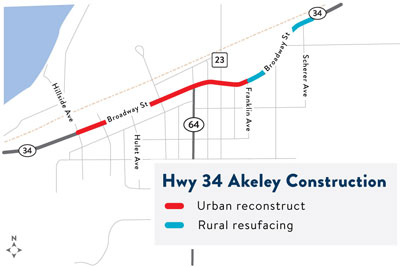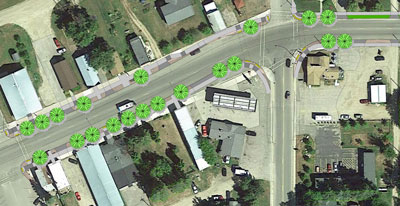 Hwy 34 in Akeley is scheduled for construction in the summer of 2023. The project requires a detour and will reconstruct the corridor through Akeley, it includes resurfacing work west of Franklin Ave.
Urban Reconstruct
Between Hillside Ave and Franklin Ave

Reconstruct the highway, reducing the current pavement width by about 30 feet
Addition of Boulevard spacing between driving surface and sidewalks
Sidewalk replacement
Turning improvements at the intersection with Hwy 64
Highway lighting
On-street parking will be changed from diagonal to parallel
Tree's will be planted in the additional boulevard spacing, although that won't take place during the project. They will be planted in 2024.
Resurfacing
Franklin Ave to east of Scherer Ave
Why reconstruct the corridor
Road width

The road is very wide in Akeley, in fact too wide, so there will be a width reduction of about 30 feet. What we find with roads that are too wide is that drivers typically drive faster than the posted speeds. So reducing the width will provide natural traffic calming, which will help reduce motorist speeds through town. Additionally it also requires more time, effort, and funding for things like maintenance, plowing, and construction. This reconstruction project will help get motorists to drive slower through town, reduce costs, increase maintenance efficiencies, and increase safety for pedestrians and bicyclists.

Boulevards

Reducing the pavement width also allows for the inclusion of boulevard spacing, which will move the sidewalks away from the driving surface, and increase safety for pedestrians and bicyclists. In the two blocks between Hulet Ave and Marie Ave/Hwy 64, the boulevards will include colored, decorative concrete. The rest will be grass.

Hwy 34/Hwy 64 intersection

Reducing the pavement width allows for an adjustment to the curb corners and turning radius for vehicles. It will make it easier for vehicles to turn more predictably and improve sightlines for drivers, which will improve safety. The project won't really change anything with the configuration, so motorists will use it the same. It just makes some adjustments to where the corners are.