About the project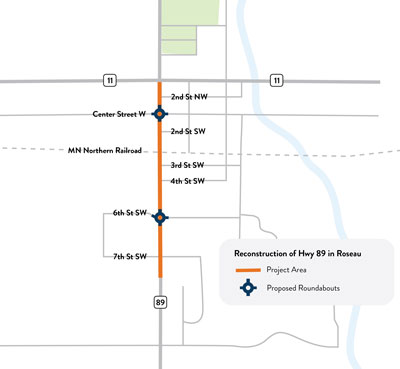 MnDOT is planning to reconstruct Hwy 89 between Hwy 11 and south of Seventh St in Roseau. The project is still in the study phase and plans for construction looks to be between 2025 and 2028. As MnDOT works towards the final design and estimated costs, a construction year will be selected.
Current conditions
The project aims to provide an urban curb and gutter section similar to Hwy 11. It will also address several deficiencies, including:
Motorist safety
Bicyclist and Pedestrian safety
Intersection alignment and control
Roadside drainage
Nighttime visibility
Pedestrian crossings and accessibility
Access location efficiency
This project is separate from the 20-mile improvement project on Hwy 11 between Roseau and Warroad in 2024, and a 1-mile resurfacing and bridge improvement project on Hwy 11 to the east of Roseau in 2025.
Corridor study

The draft layout designed during the corridor study includes a roundabout at Center St and Sixth St SW. They would improve safety at the intersections and reduce motorist speeds on the corridor.
Draft layout benefits
Traffic calming and natural speed reduction for traffic
Improved motorist and pedestrian safety
Improved pedestrian accessibility
Drainage improvements to eliminate standing stormwater
Removal of ditches provides beautification and improved maintenance of the roadsides
Improved roadside aesthetics entering from the south end of town
Maintenance of the roadsides
Street lighting will improve safety and comfort of pedestrians and vehicles
Improved access and operations of the multi-use trail on the west side of the highway
Improved land use, maintenance efficiency, and aesthetics
Improvements of highway frontage greenspace
Improved comfort to drivers accessing Hwy 89 from side streets and private approaches due to flatter inclines