Study details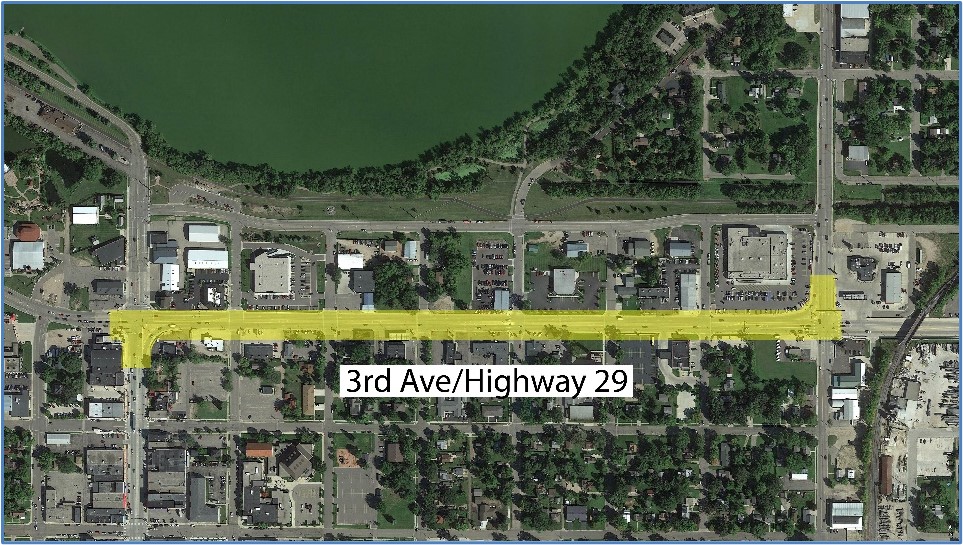 The Alexandria Third Avenue Pedestrian Study is a seven-block study for MNDOT District 4 on Highway 29 in Alexandria, MN. This section of the corridor, between Broadway Street and Nokomis Street, is a busy commercial area. People walk and bike here to access businesses and to connect to Lake Agnes and the Central Lakes Regional Trail. The Highway is also well used by drivers with an average of 18,200 vehicles per day, including 1,050 heavy commercial trucks.
The purpose of this study is to look at pedestrian safety and identify connections for people walking, biking, and rolling along and across Highway 29. This may include short-term options such as quick build safety improvements, or longer-term capital improvement recommendations.  
How to Participate
Join us for the Highway 29 3rd Avenue Corridor Study Open House to learn more about the study and provide feedback on your goals for the corridor!
Location: Douglas County Public Works
Date: May 23, 2023
Time: 5:30 - 7:30 PM
Study Review Committee (SRC)
MnDOT is partnering with the City of Alexandria to help identify the current issues and create a local vision for this section of the Highway 29 corridor. A Study Review Committee will help MnDOT ensure that community values are represented in the development and evaluation of project alternatives, while fostering conversations within the community.
Partnership
MnDOT and its partners have committed to work with the Alexandria community to ensure that the community's concerns and aspirations are directly reflected in the alternatives developed as part of the Third Avenue Pedestrian Study and to provide feedback on how the community influenced recommendations and decisions.