Sign up for project email updates
Update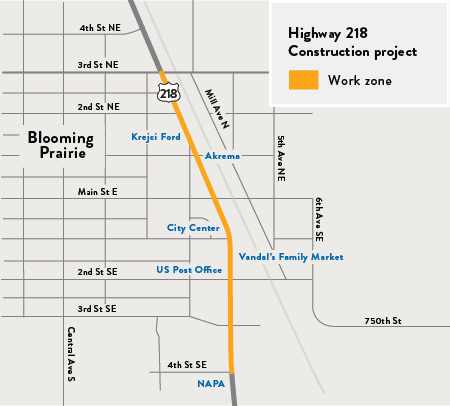 Construction postponed until 2024
The Minnesota Department of Transportation has postponed the reconstruction of Hwy 218 in Blooming Prairie until 2024.
The short delay is due to changes within the budget and will allow the project management team more time to investigate the construction needs of the project. The roadway needs repair and MnDOT has been working with the city of Blooming Prairie to evaluate community needs and safety changes. Last winter, community members provided feedback on a preliminary design that included a reconstruction of the roadway, installation of new sidewalks and an intersection modification at Hwy 218 and 1st St NW.
A demonstration project will be installed this spring at the intersection of Hwy 218 and 1st St NE. Demonstration projects allow MnDOT, project partners and community members to evaluate potential improvements before investing in permanent infrastructure changes. Temporary alterations with paint and flex posts will be used to modify the intersection to the proposed design. The project's purpose is to improve pedestrian safety and reduce vehicle crashes. The community will be asked to provide feedback about their experiences and impressions of the change.
A virtual open house is planned for later this winter and will be announced through the project email updatesproject email list, social media and news outlets.
Summary of work
The Hwy 218 corridor through Blooming Prairie will be reconstructed in 2024.
MnDOT is reviewing options for through lanes, turn lanes, bicycle and pedestrian facilities with the city of Blooming Prairie.
Public engagement is on-going and anyone with comments or questions are encouraged to reach out to the project management team.