Sign up for project email updates
Project update
Business meeting
MnDOT and the City of LeRoy hosted a business meeting Oct. 7, 2021. Local business owners, leaders and others with business interests had an opportunity to learn about the project and construction information related to business operations.
Virtual business meeting
People who are not able to attend the in-person meeting can receive the same content by viewing the short videos posted in the meetings tab. Individuals were also asked to participate in a short survey and provide their feedback about design options and communication preferences. The survey closed on Oct. 25, 2021
Any additional questions and feedback can be submitted to the project contacts.
MnDOT invites and encourages participation by all. If you need an ASL, a foreign language interpreter, or other reasonable accommodation, or need documents in an alternative format (such as braille or large print), please email your request to Janet Miller at ADArequest.dot@state.mn.us or call 651-366-4720.
About this project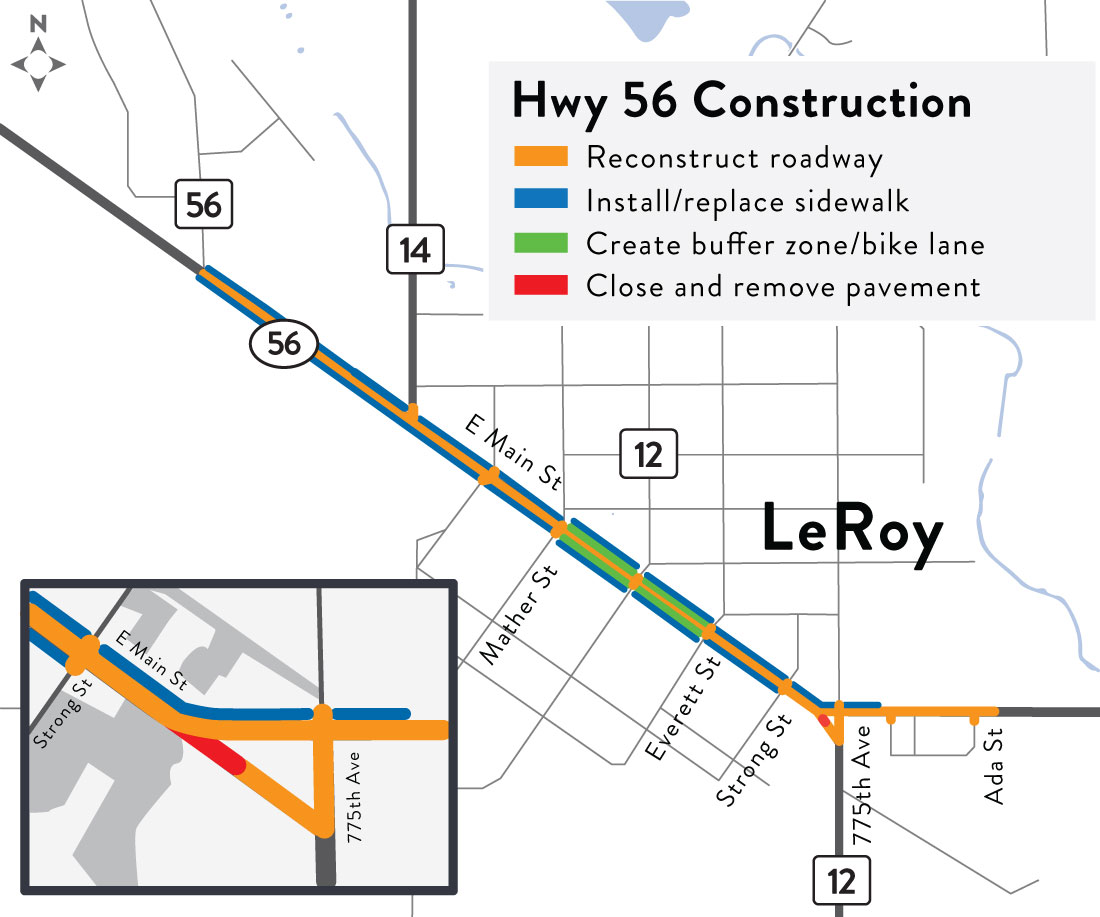 The purpose of this project is to address deteriorating pavement conditions, improve drainage, update pedestrian facilities and coordinate with the city to allow for replacement of aging city utilities underneath Hwy 56.
Proposed work
Reconstruct approximately 1.2 miles of Hwy 56 through LeRoy
Replace storm water, sanitary sewer and water main
Extend water main past Ada St.
Replace and install new curb and gutter
Improve intersection safety at Mower County Road 12, Hwy 56 and Main St. E. Alter intersection and construct cul-de-sac west of Mower County Road 12
Replace and install new sidewalks
Define buffer zone between traffic and parking with striping from Mather St. to Everett St. Buffer zone will allow for biking
Improve school crosswalk safety, construct bump out at Mower County Road 14
Create wider school parking zone
Optional landscaping including trees and plants
Details can be viewed on the project layout map.