About this project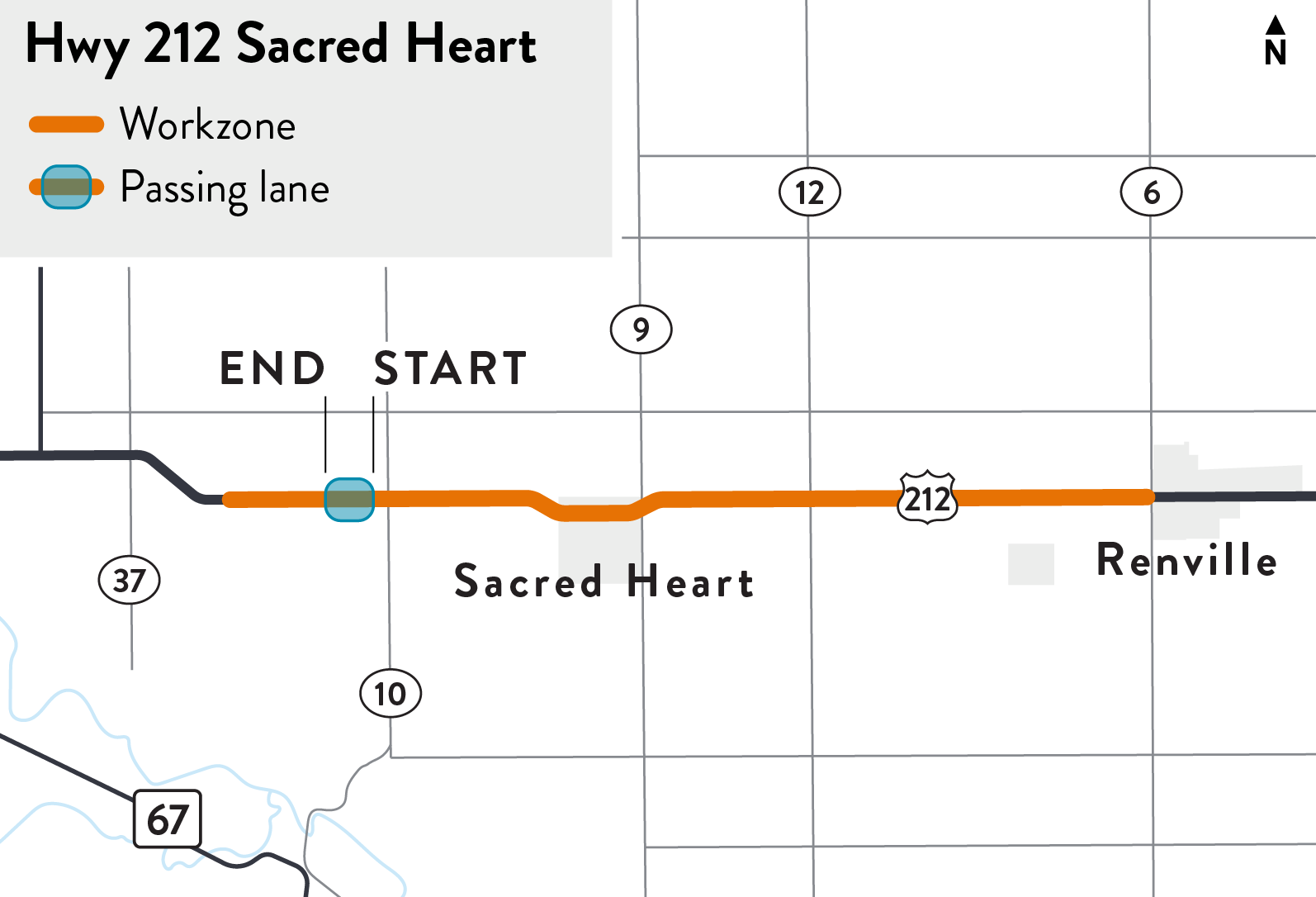 Summary of work
Resurfacing of Hwy 212 from just east of the junction of Hwy 23 to the junction of CR 6 in Renville.
Hwy 212 through Sacred Heart will be reconstructed. Sidewalks, pedestrian ramps and adjacent driveways will be upgraded to meet Americans with Disabilities (ADA) standards. Two storm water ponds are planned as part of storm sewer upgrades.
A passing lane (westbound) between Granite Falls and Sacred Heart will also be constructed as part of the project.
Alternative bid
This project will be designed as an alternative bid. This means that the project is designed with both a concrete and bituminous (black-top) pavement option. Contractors then place their bid for either option and the final pavement type is selected at the time that the project bids are opened.
Virtual open house
MnDOT is please to offer a virtual open house for the Hwy 212 project. Comments and questions can be submitted by using the comment on this project box located on the right side of the page.
Open house
MnDOT will be holding an open house on Monday, June 28th from 6-7 pm on the Hwy 212 project ahead of the city's public hearing. Visit us at the Sacred Heart Community Center (309 1st Ave.) to learn more about the project, ask questions and give your feedback.
Public Hearing
The city of Sacred Heart is holding a public hearing on Monday, June 28th at 7pm at the Sacred Heart Community Center (309 1st Ave.). MnDOT will be giving a short presentation on the project layout at the start of the meeting. MnDOT will be present to answer questions from the community about the project. For more information on the city's public hearing, please contact Amy Hubbard with the city of Sacred Heart.
Traffic impacts
Work will be done under a detour
Motorists should expect delays