Infrastructure grants
October 23, 2020 SRTS Update from Marc Briese
The Governor signed a bonding bill into law on Wednesday, October 21, 2020 and the bill provides substantial funding for local projects, including $3 million for the Safe Routes to School Program (SRTS)! The State Aid Programs section will work cooperatively with the MnDOT Safe Routes to School Coordinator from the Office of Transit and Active Transportation to develop a solicitation. That solicitation will occur later in 2021.
More information will be available in the months to come.
See SRTS PowerPoint for more information on the SRTS program.
About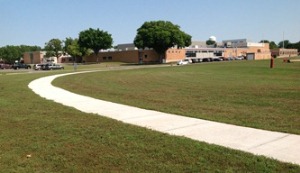 Engineering the built environment for safer walking and bicycling routes is one of the five E's to the comprehensive Safe Routes to School approach. The SRTS Program provides funding support for capital projects that promotes and encourages more students to walk or bicycle to school by making the school routes safer and more accessible. 
The following are some types of infrastructure improvements that communities may request funding support for.
School site improvements: secure bicycle parking facilities, traffic diversion improvements, and ADA improvements
Pedestrian facilities: new sidewalk, sidewalk gap closures, and related ADA improvements
Bicycle facilities: bicycle trails, separated multi-use or shared paths and related ADA improvements
Traffic calming and crossing improvements: curb extensions, speed humps, median refuges, enhanced crosswalk markings, timed on/off beacons, vehicle feedback signs (dynamic speed signs), and other traffic control devices
Identifying SRTS Infrastructure Improvements

SRTS communities identify infrastructure needs through SRTS or community planning. SRTS planning is comprehensive with the 5Es (education, enforcement, encouragement, engineering, and evaluation). For the engineering component, communities would evaluate safety and accessibility concerns with the existing walking and bicycling routes. Based on the information gathered during the planning, the community will have a better understanding of where infrastructure improvements could be made to enable more students to walk or bike. Other planning efforts such as a city's comprehensive plan or active living plan are also useful in identifying non-motorized transportation needs to enable students to get to school. 
Additional site evaluation, stakeholder engagement and engineering is needed after planning to determine what each community needs in a SRTS project.