Sign up for project email updates
Updates
Apparent best value bidder selected for Hwy 52 Zumbrota to Cannon Falls Design-Build Project
Mathiowetz Construction Co. is the apparent best value bidder for the Design-Build contract to reconstruct Hwy 52 southbound, build an interchange at Hwy 52 and Hwy 57/Goodhue County Road 8 and make other safety improvements.
Bids from prime contractors on a short list were opened on Wednesday, Feb. 24 in St. Paul with four teams submitting sealed bids. The bids will be reviewed and certified before the contract is awarded in spring 2021.
Construction could begin later this summer on portions of the project. The first full construction season will begin in spring of 2022 and be completed by 2023.
Bids submitted:
Mathiowetz Construction Company, $69,698,166.66
Ames Construction, Inc., $73,973,000
Michels Corporation, $77,472,333.95
Shafer Contracting Co., $77,958,339.57
To see the results, go to MnDOT's Design-Build project website and click on letting.
Other developments have occurred this fall, including:
Park and ride
Recently the Goodhue County Board discussed and voted to move ahead with the Goodhue County plan for a park and ride in Hader that will be part of the project. They also discussed the planned realignment of Goodhue County Road 14.
Goodhue County Road 7
Due to rising costs and fiscal constraints, the Minnesota Department of Transportation is removing the planned work at Goodhue County Road 7/Sherwood Trail and in the vicinity from the Highway 52 Southbound Improvement Project. Under the project, the County 7/Sherwood Trail intersection will be left "as is".
Additionally, MnDOT will remove planned median work and acceleration lanes at this intersection, along with "J-turns" and the repaving of northbound Highway 52. The nearby 165th Ave. intersection will remain as it is currently aligned.
This will not change the planned construction timelines to begin later in 2021, including specific plans for reconstruction of the southbound lanes and construction of an interchange at Hwy 57/County 8. MnDOT anticipates discussions with Goodhue County on possible future work at Goodhue County 7, also known as Welch Village Road.
About this project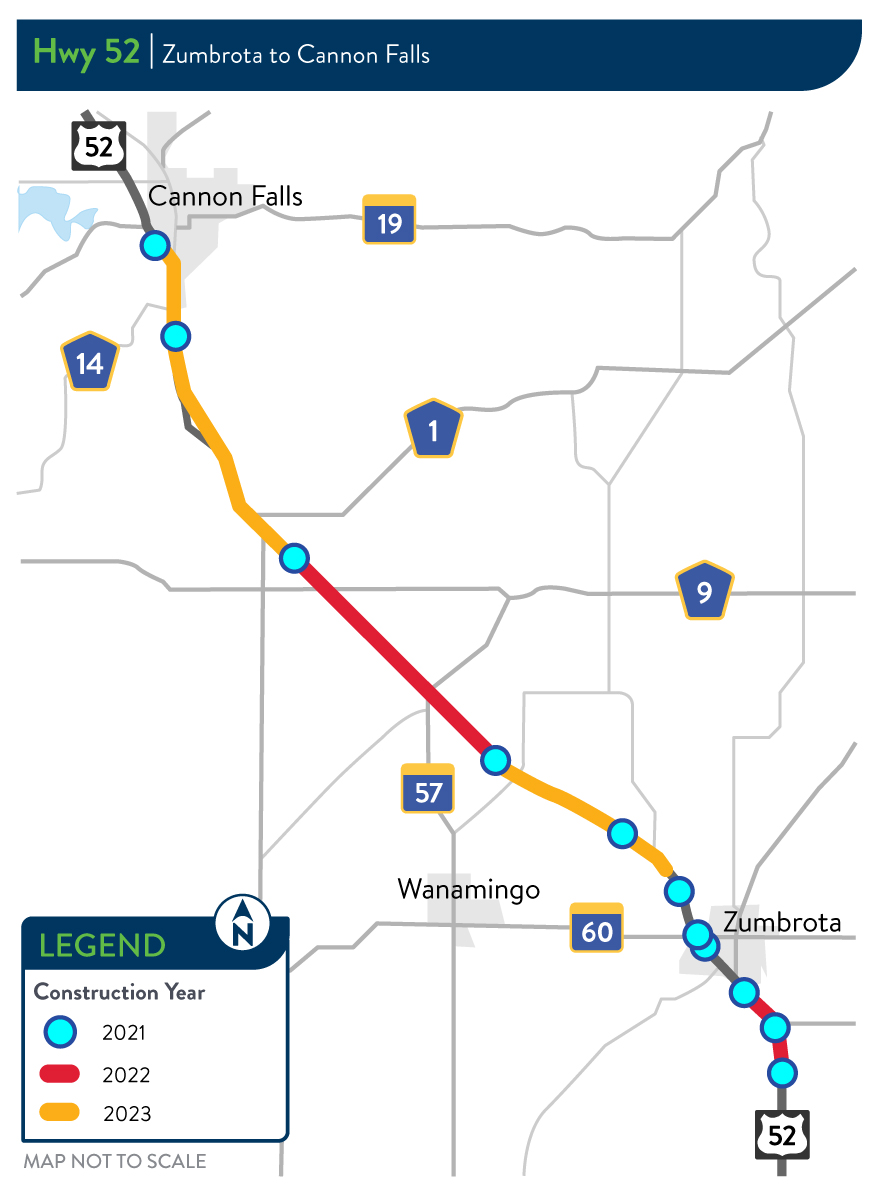 The Highway 52 corridor has been identified in several major transportation planning studies for improvements.  One of them, the Highway 52 Interregional Corridor Management Plan, prompted the development of a vision to transition the highway to a freeway design with no direct access.
In 2017, MnDOT received additional highway funds from the Minnesota Legislature.  Through public outreach, the public and those who have an interest or concern with our highways, were asked what their priorities would be if changes could be made.

From that input, MnDOT developed investment priorities and selected a section of southbound Highway 52 to receive improvements.

The project follows along Highway 52, from roughly 2 miles south of Cannon Falls and ends about 2 miles north of Zumbrota. 

MnDOT is proposing the bridges at Highway 52 and Highway 60, both east and west, in Zumbrota to be replaced. 

The junction of Highway 57/Goodhue County Road 8 and Highway 52 in Hader is being designated for an interchange.  During the design stage of the project, more safety and access management may be looked at and added.

Project schedule (tentative, subject to change)
Preliminary design - summer of 2018 through the Fall/Winter of 2019.
Construction - fall of 2021
Completion - fall of 2023