About this study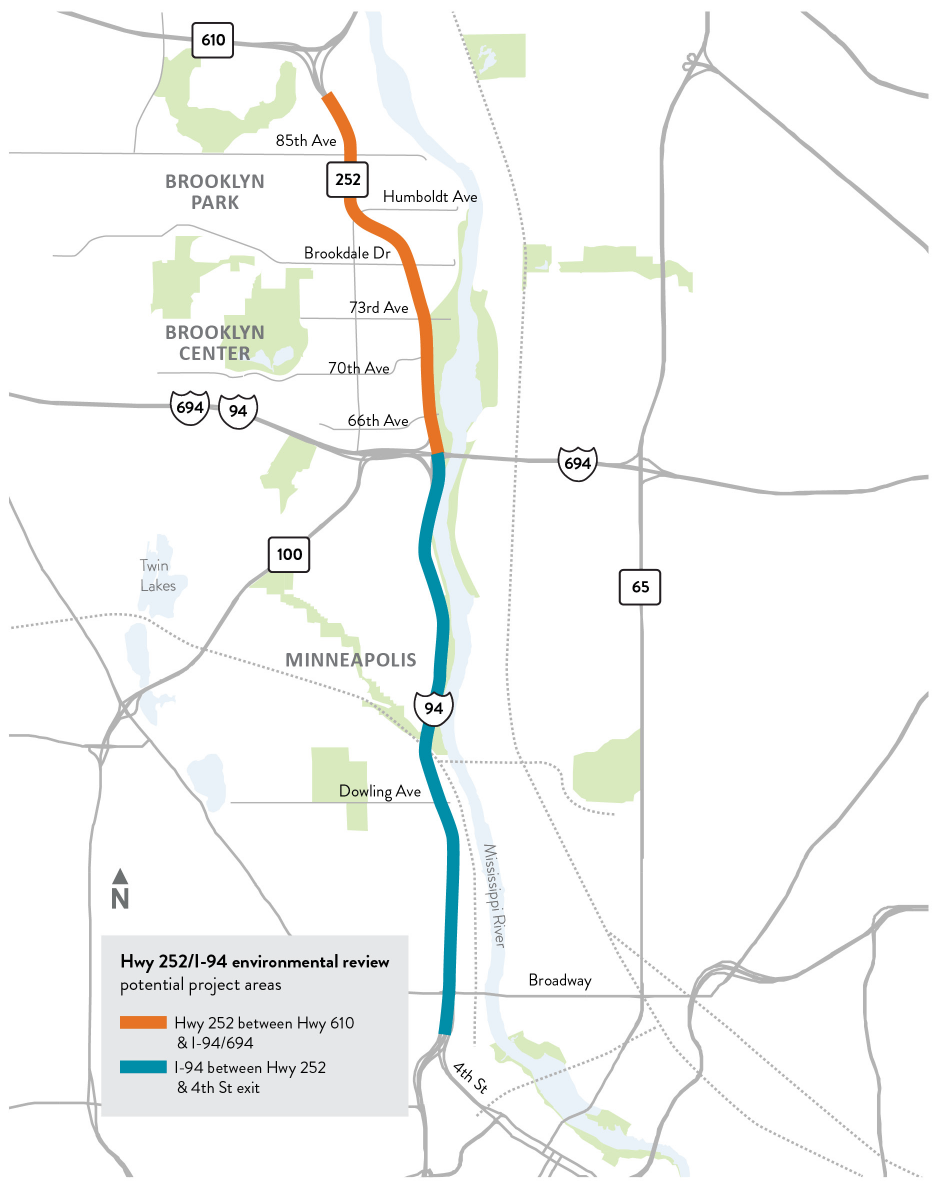 Hwy 252 and I-94 in Brooklyn Center, Brooklyn Park and north Minneapolis are in need of improvements and repairs. Currently, MnDOT is seeing a high number of crashes, traffic congestion, and significant barriers for pedestrians and bicyclists in the area. Both roads also are deteriorating and need to be repaired.
Before MnDOT makes any major improvements to Hwy 252 and I-94, we are working closely with the public, and our federal and local partners to gain a better understanding of safety and transportation needs in the area. As part of this study, we also are taking a closer look at how a potential construction project could affect the environment surrounding Hwy 252 and I-94. This includes the people, plants, animals, water, air, buildings and other structures in the area. Our team will prepare an environmental impact statement (EIS) that outlines the potential project's impact to the surrounding area. This process will take several years due to the size and complexity of the project. During this time, our team continues to engage with the community and other stakeholders at each step in the process.  
Public comment periods
Formal Public Comment periods include: Scoping Document/Draft Scoping Decision Document: Spring 2022, Draft Environmental Impact Statement: Fall 2023.
Traffic noise analysis and noise barriers
Noise levels will be studied as part of the proposed Hwy 252/I-94 project in Brooklyn Park, Brooklyn Center and Minneapolis. Once noise levels are determined, a noise wall proposal will be developed.
For more information about traffic noise analysis and noise barriers, please visit MnDOT's Noise Webpage.
*Although construction on a potential Hwy 252/I-94 project will not begin until after the environmental review, our crews will continue to carry out minor maintenance and construction activity within the area, as needed.