State Transportation Improvement Program (STIP)
The STIP is a federally required public document which lists Minnesota's four-year transportation improvement program. The STIP includes all state and local transportation projects which are using federal highway and/or federal transit funding as required per Title 23 United States Code (USC). The STIP must also contain all regionally significant transportation projects that require an action by FHWA or the Federal Transit Authority (FTA) whether or not funding from either agency is anticipated. Information contained within the STIP includes the cost, schedule, and funding sources for the identified projects. The STIP is developed on an annual basis and it is updated throughout the year to reflect significant changes in the program. In addition to federal highway and transit projects, the STIP includes rail and port projects for informational purposes.
The STIP must be financially constrained by year and must indicate whether the transportation system is being adequately operated and maintained. The STIP must include sufficient financial information to demonstrate which projects are to be implemented using current revenues. If additional funding sources are proposed for some projects, strategies for ensuring the availability and likelihood of additional funding are necessary.   
STIP funding allocation
A portion of the federal highway funding is targeted to the decentralized Area Transportation Partnership (ATP) for the selection of locally sponsored federally funded projects in the STIP which was designed to provide a geographic basis for integrating the transportation priorities within the regions of the state.  Another portion of the federal funds are targeted to the eight MnDOT district offices to select projects for the STIP from their respective areas, with the assistance of various specialty offices within MnDOT.  The districts are also targeted most of the state funding, which they use to match the federally selected projects and target 100 percent state funded only projects.  The last portion of federal funding is targeted centrally through a variety of individual processes.  For additional STIP funding information go to:  How we fund transportation projects.
Minnesota's Area Transportation Partnerships
Minnesota created Area Transportation Partnerships (ATPs) to emphasize greater public involvement in the transportation decision process, provide a forum for transportation partners to have a voice in those decisions, and increase the impact of local/regional planning on the development of the four year STIP. Each ATP is responsible for developing its own public involvement for projects in their area to guide the solicitation and selection activities. They do this by maintaining an open process in project decision-making. When looking at the Project Development Continuum, the ATPs influence the STIP when a list of projects is created with identified funding that will occur in the 4-Year period. 
STIP development process
The District/ATP integrates the prioritized project lists submitted by the partners.  The planning processes of the partners should provide direction to the District/ATPs in integrating priorities. While area funding targets consist of federal aid highway funding, the District/ATPs must include in their Area Transportation Improvement Program (ATIP) all projects from the following sources of funding: 1) federal aid highway; 2) state trunk highway; 3) FTA (both transit capital and operating); and 4) project match from other entities.  The draft ATIPs will be combined into a list of STIP candidates and cross-tabulated to determine any funding uses. The project lists will be analyzed with respect to state and department goals, targets, and various federal categories.  All projects selected for inclusion of the STIP have come from either a district or statewide planning process and are consistent with MnDOT's long-range transportation plan known as the Statewide Multimodal Transportation Plan.  Public and stakeholder input into the STIP is provided by the ATPs and MnDOT at various points with the STIP development process.
Changes to the STIP
Once a STIP is approved by the Federal Highway Administration (FHWA) and the Federal Transit Administration (FTA), major changes to federally funded projects must be approved through a formal amendment process by FHWA/FTA. Lesser changes or the correction of incorrect information in the STIP can be accomplished through the Administrative Modification process which does not require federal approval. FHWA and MnDOT have developed Guidance for STIP Amendments and Administrative Modifications (PDF).
STIP public involvement process
The STIP public involvement process gives citizens and interested stakeholders the opportunity to review and comment on the STIP.  The process assures that the public's voice is not only heard but makes a difference in moving MnDOT forward.  The public is encouraged to become involved and provide the MnDOT/Districts with thoughts, suggestions and transportation needs.  There are multiple opportunities for the public to have a voice in the STIP development process. 
Attend local MPO Board meetings in their area of interest.  The MPOs are responsible for conducting public involvement activities at the local level prior to adoption of their TIPs.   
The ATP provides public outreach throughout the state, makes announcements and holds public meetings at convenient and accessible locations/times and makes materials available.     
MnDOT accepts public comment regarding the Draft STIP during the 30-day public comment period, typically between the month of June and July, where comments may be submitted online at: Draft STIP Comment Form.  During this period, the Draft STIP project list is available for review at Draft STIP Project List and a Public Notice is published on the State Register.
MPO's role in the TIP/STIP public involvement process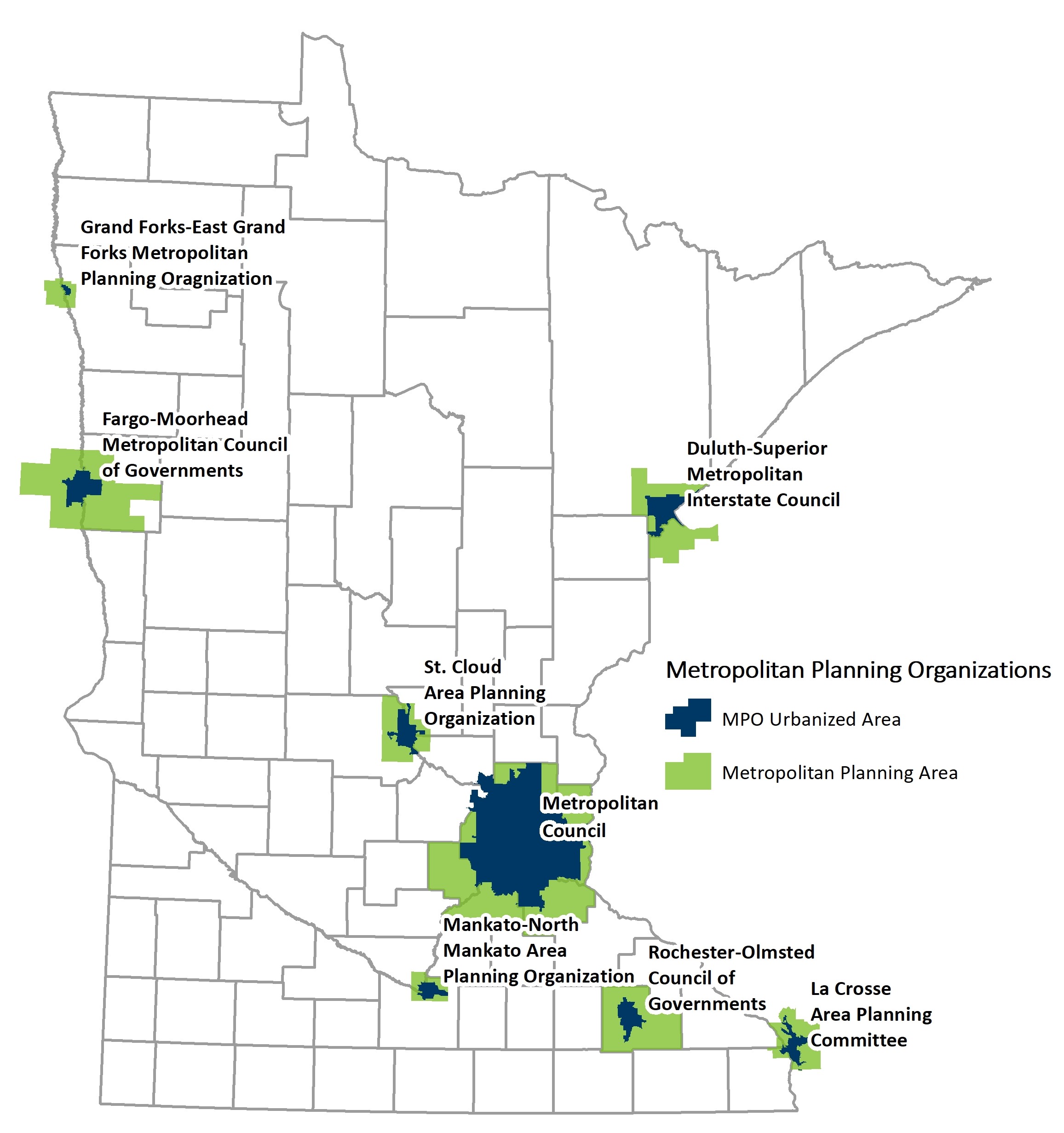 A Metropolitan Planning Organization (MPO) is the policy board of an organization created and designated to carry out the metropolitan transportation planning process required by law. MPOs are required to represent localities in all urbanized areas with populations over 50,000.  The MPO is responsible for transportation planning and programming federally funded highways and transits projects for their area. MPO candidate projects and priorities developed through its Transportation Improvement Program (TIP) process are incorporated into the District's Area Transportation Improvement Program (ATIP).  The final MPO TIP and the final STIP are required to be consistent in content. MnDOT District staff work closely with staff from each respective MPO to ensure consistency is achieved. 
The MPO recognizes that an effective participation process is a vital element in the development and implementation of its transportation planning and programming.  Thus, each MPO has their own process which outlines the public participation strategies for engagement and outreach encouraging stakeholders and community leaders to support the regional transportation system. 
MnDOT's public engagement policy and process
MnDOT is committed to providing meaningful engagement opportunities in transportation decision-making and developing plans, projects, programs, studies, and services. MnDOT staff are responsible for communicating and engaging with communities, stakeholders, and transportation partners when undertaking planning, scoping for and completing construction projects within the 4-Year STIP, conducting operations and maintenance activities, and developing and delivering core programs and services. Public engagement objectives will be different for each phase of the process, but engagement is critical throughout the project lifecycle and is key to developing an efficient transportation system for the state. MnDOT has a Public Engagement Policy that outlines the agency's commitment and responsibility of engaging the public regarding planning and funding of future transportation projects. View MnDOT's Public Engagement Policy.
In addition to our Public Engagement Policy, MnDOT has made a commitment to educate and develop employee knowledge regarding public outreach and its importance to the agency's transparency and operational excellence. A wide range of staff have received extensive public engagement training while formulating outreach plans to determine the best level of engagement each individual project will require from when it is first placed in the 10-Year Capital Highway Investment Plan (CHIP) to when it is scoped and placed in the 4-Year STIP. As you will note from the IAP2 Spectrum, projects are closely analyzed to determine who will be the public stakeholders that need to be involved and what level of public participation will be utilized.
It is important to note that public engagement is scalable and not a one-size fits all as not all projects require the same level of engagement. As MnDOT puts together its plans and programs, we analyze the appropriate level of public engagement to ensure that it is satisfactory for the project at hand and when required, a full public engagement plan or strategy is created to advance the projects in our CHIP and STIP.
Overall, we inform the public of all of our project work through various means, such as a webpage for each project timely news releases when appropriate, updated social media with project news and public open houses in the community where the project will take place to inform the interested public on project specifics, dates, potential detours, etc. This is only an example of the bare minimum of public engagement for a basic transportation project, such as road surface improvements, etc. Some of our projects, such as mill and overlay in a rural area, may simply require the "Inform" level of public participation on the IAP2 Spectrum. For more involved projects, such as those that require municipal consent, in-depth plans or corridor studies, multiple public engagement tools and approaches are used to open two-way communication with the public. Examples include, open houses, agency-led stakeholder meetings, news releases, project webpages, online surveys, social media updates and outreach materials including virtual and in-person sessions to obtain feedback and ideas from the public.
At the point a MnDOT project reaches the STIP, public engagement is typically taken over by district Public Affairs staff and construction Project Management to keep the public informed of project details, construction schedules, potential detours and other important information. This is done through open houses, social media, news releases, project webpage updates, etc.
Once a project has reached the STIP, it is typically in the "Inform" phase of public engagement on the IAP2 Spectrum, however, special considerations can come up during project development that could require further consultation with the public and other stakeholders that have a vested interest. For most projects, the intense public engagement prework of "Consulting, Involving and Collaborating" has been completed by this point and considered prior to the final design and letting of a project.
MnDOT has created a Project Development Continuum which clearly outlines the technical objectives of projects, the stage when these objectives occur and the public engagement objectives that adhere to the agency's overall project development process. This continuum outlines the consistent approach that MnDOT uses for all projects to engage with internal and external audiences to inform decision making and best meet the state's transportation needs. Project Development Continuum (PDF)
In summary, MnDOT is committed to public engagement and has policies, staff resources and communication tools in place to carry out public outreach for the of planning and implementation of our transportation projects and studies. This is our engagement work and tasks the agency is involved to ensure we are interacting with the public early and often while maintaining and improving the state's transportation system.