NRRA Newsletter
DPS goes to North Dakota
At the beginning of July, Kyle Hoegh research project scientist for MnDOT and grad student Trevor Steiner went to North Dakota to demonstrate the Dielectric Profiling System. This was part of the ongoing outreach that is part of the NRRA's mission: to provide technology transfer to other states and, in particular, our members.
The DPS combines specialized high-frequency ground penetrating radar with data-crunching software and calibration to create a map of recently constructed HMA. The map that is created by the system shows the density of the recently placed asphalt, which can tell the road owner if the job has been done right or not.
Hoegh's goal is to get the DPS to correlate so accurately that cores will no longer be necessary. "It's pretty self-explanatory that you don't want to damage a pavement that you just placed. Until recently, however, that's the only way we could make sure that it has the correct amount of compaction."
In their first day in North Dakota, Hoegh was joined by Amy Beise, director of Materials & Research for the North Dakota DOT, and they ran the DPS over a new pavement near Castleton, ND.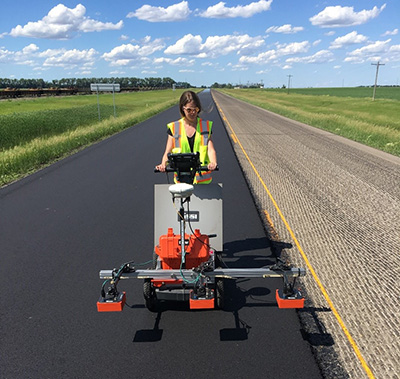 Amy Beise, from North Dakota Department of Transportation, collecting DPS data on ND18 near Casselton, ND.
Beise gathered some of the data, and they took some cores and finally gathered mix. That last step is important because that's where the dielectric gets converted to density for that specific pavement being tested. A gyratory compactor is then used to make asphalt specimens (pucks) with a wide range of air void content. The information from the pucks and an innovative way of measuring the dielectric of the pucks allows for calibration of the DPS data so it can be turned into the map of density and air voids in the pavement. This method based on puck measurements is becoming the key to gradually eliminating cores. In this case, rather than using field cores for calibration, they are only required sparingly to validate the conversion from dielectric to air void content is correct. After completing the DPS calibration and validation process, the density evaluation can be made based on tens of thousands of DPS air void content measurements as opposed to the current practice of using 2 cores for every 600 tons of placed pavement.
The second day of their demonstration took place in Fargo in a classroom, partially because it was raining. There Hoegh went over the data they gathered and showed the map it created.
Dale Heglund, program director for the Upper Great Plains Transportation Institute at North Dakota State University, attended the second day and said that the tool "did quickly point out areas that need attention, and it's as near real time as you can get." He added, "It doesn't do any of us—owner or contractor—any good to get the information the day after. There's no recourse."
Doing quality control with cores means waiting for the asphalt to cool, drilling the core and then doing performance tests on it. In the best of circumstances, this takes at least 24 hours to get results and then it's too late to change the pavement that's already been installed.
The discussion on Day Two included DOT employees, academic researchers and contractors. "I was very impressed with how active and involved they were with the presentation, asking good questions and having a good discussion of what this technology would look like for them," said Hoegh.
Heglund was impressed, saying "Kyle's expertise has created enough confidence in the North Dakota group that we will be moving forward with this. It will make a reduction in field cores, which costs not only time and money, but it's also safety issue for the coring crew." He added, "North Dakota is confident in its decision to join the NRRA, but this demonstration pushed it so far out of the park. Wow."